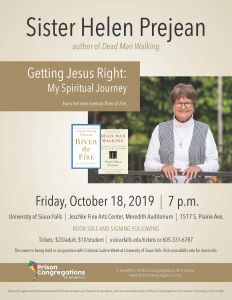 Helen Prejean is coming to the University of Sioux Falls campus in Sioux Falls, SD
on October 18 at 7 pm . She will speak at the Jeschke Fine Arts Center about her
latest book, "River of Five."
Tickets are $20 for adults and $10 for students and are available online at:
www.usiouxfalls.edu/ticket or you can call 605-331-6787.
The event is sponsored by Prison Congregations of America.
SDADP was not able to co-sponsor this event because Prison Congregations
would not allow it. I hope to see Helen before or after her presentation to report on
our progress on the death penalty here in South Dakota.
Get your tickets early and come witness this pioneer in abolishing the death
penalty in the United States beginning with her first book, "Dead Man Walking,"
from which the blockbuster film was made in 1995.