---
The SALVATION ARMY Send a Kid to Camp Suitcase Drive
We are excited to be a part of this amazing community campaign!
We are partnering with The Salvation Army Aberdeen, SD, HKG Architects and Dakota 105.5 to collect camping supplies for community children attending camps this summer. There are many area youth who would like to attend camp but don't have many of the necessary camping essentials.
We invite you to fill a suitcase, new or used and bring it to the Presentation Convent on Thursday, May 16, 2019, as Dakota 105.5 broadcasts live to collect donations. You may also bring new, individual items and we will fill donated suitcases. Monetary donations will also be accepted.
Dakota 105.5 will be serving a free lunch provided by Economy Meat Market.
Come and enjoy a delicious lunch and help out a wonderful cause!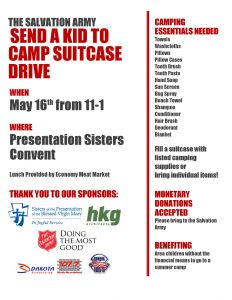 When: May 16th from 11-1, Lunch will be provided by Economy Meat Market
Where: Presentation Sisters Convent, 1500 N Second Ave, Aberdeen, SD
Details: Fill a suitcase with listed camping supplies or bring individual items! CLICK HERE FOR MORE DETAILS ON SUPPLIES!
Monetary Donations Accepted (Please bring to the Salvation Army)
Benefiting: Area children without the financial means to go to a summer camp
Camping Essentials needed:
Towels
Washcloths
Pillows
Pillow Cases
Tooth Brush
Tooth Paste
Hand Soap
Sun Screen
Bug Spray
Beach Towel
Shampoo
Conditioner
Hair Brush
Deodorant
Blanket
The Presentation Sisters are proud to help sponsor this event, along with hkg Architects, The Salvation Army and Dakota Broadcasting