Prayer for the Canonization of Nano
Gracious and loving God, we come before you pleading the cause of canonization of Venerable Nano Nagle, holy foundress of the Sisters of the Presentation of the Blessed Virgin Mary. Bless her Presentation Sisters and the Church by declaring Nano Nagle's sainthood. With her as light for our journey, may we be blessed with the vision, courage and fidelity that stirred Nano to passionate service to those most poor and abandoned. We ask this in the name of Jesus, in Whom she found light and strength. Amen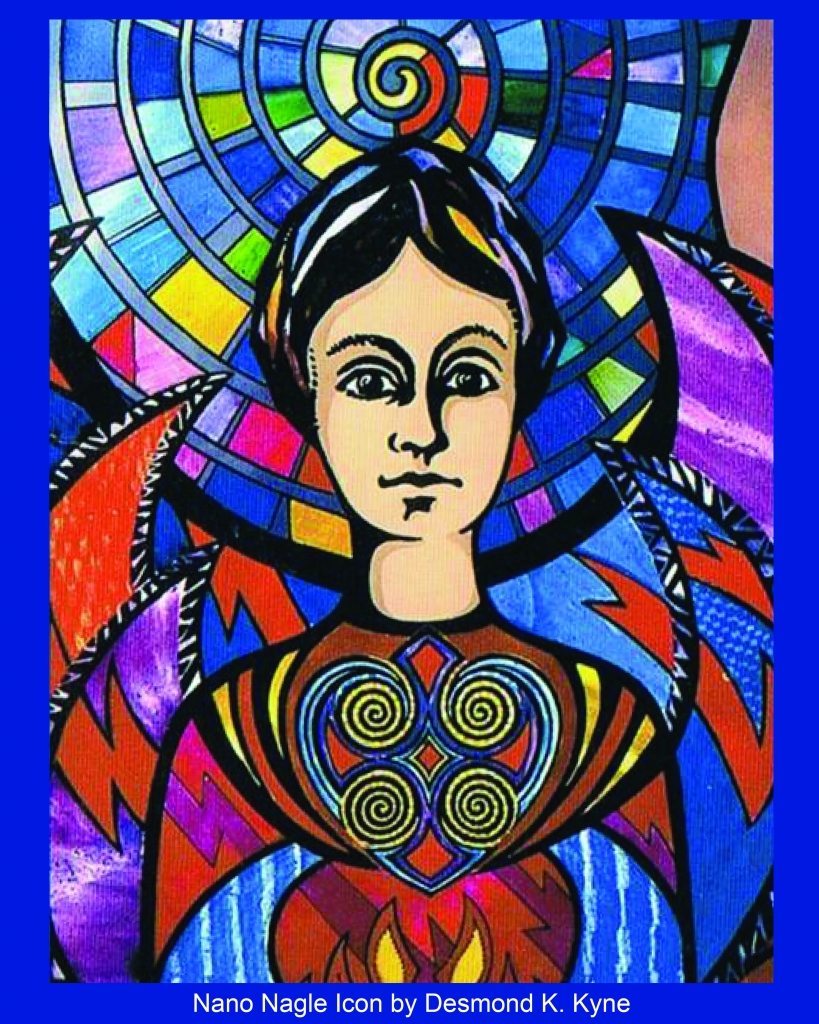 Nano Nagle
"If I could be of service in saving souls in any part of the globe, I would gladly do all in my power."
                                                                                                                                                       —Nano Nagle
Honora "Nano" Nagle, Sister John of God, founded the Sisters of the Presentation the Blessed Virgin Mary in Cork, Ireland in 1775. Her recognition as one of the greatest women of Ireland derives from dedication to the poor and oppressed. Her mission between the cutting edge of the gospel and the miseries of her day inspires the Presentation Sisters to minister in joyful service, responding to current needs throughout the world in faithfulness to the gospel.
The Universal Church recognized Nano on October 31, 2013, as a woman of faith, hope and heroic virtue by declaring her Venerable. Once evidence of an authentic miracle is attributed to Nano's intercession with God, she acquires the title Blessed. Another miracle initiates canonization and public recognition of Nano as a Saint.
Born to a wealthy family in Ireland in 1718, Nano Nagle's parents sent her to France to be educated since strict penal laws barred Catholic children from attending school in Ireland. She returned to Ireland after her father's death in 1746; her mother died soon after. Prayer and reflection led Nano back to France to become a sister.
Even as she began her new life as a sister, Nano's thoughts often returned to the children of the poor families back in Ireland.
At age 32, she left the convent in France and returned to Ireland, where she secretly gathered the children of the poor and taught them catechism, reading, writing and mathematics. As Nano spent her days with the children, they would tell her of their sick friends or family members. Nano began to visit the sick and the elderly after school, bringing them food, medicine and comfort.
She often made visits late into the night, carrying her lamp among the alleyways. Before long, Nano became known as the Lady of the Lantern.
Nano decided to open a convent where women could share the mission of Jesus through prayer, teaching and care for the sick and needy. Nano and three companions opened the first Presentation Convent in Cork, Ireland, on Christmas Day in 1775. In 1784, at age 65, Nano died.
She left her compelling vision of service to a growing community of Presentation Sisters. Her final words are emblematic of her timeless legacy, and they remain a guiding principle for the Sisters:
"Love one another as you have hitherto done."
One Pace Beyond
(written about Nano Nagle, foundress of the Presentation Sisters)
Take down your lantern from its niche and go out!
You may not rest in firelight certainties,
Secure from drifting of doubt and fear.
You may not build yourself confining walls
And say: "Thus far, and thus, and thus far shall I walk,
And these things shall I do, and nothing more."
Go out! For need calls loudly in the winding lanes
And you must seek Christ there.
Your pilgrim heart
Shall urge you still one pace beyond,
And love shall be your lantern flame
M. Raphael Consedine, PBVM