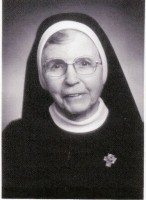 Birth Name: Nora Mary
Current Name: Raymond
Religious Name: Raymond
Last Name: Aherne
Mother's Name: Margaret (Slattlery) Aherne
Father's Name: John Aherne
Hometown: Michaeltown, Ireland 1904
Entry Date: January 23, 1930
Current Status: Deceased
Death Date: January 31, 2000
Biography:
Nora Mary Aherne was born March 21, 1904, to Margaret (Slattery) and John Aherne in Mitchelstown County, Cork, Ireland. She was 26 when she came to the United States. On Jan 23, 1930, she entered Presentation Convent. She made her profession to the Presentation Congregation on July 16, 1932. For more than 50 years, she was in the housekeeping ministry, serving seven parish schools in South Dakota and two parish schools in Minnesota. Her main responsibility was to prepare meals for all of the students. Even though she prepared hundreds of meals for the children, cooking remained one of her most favorite pastimes. When she was not in the kitchen, she enjoyed playing cards. She spent her last years in prayer and part time service at Presentation Heights.
1920-1929 Ireland Priest Housekeeper
1930-1932 Presentation Convent Aberdeen Novitiate
1931-1934 St. Thomas Madison Housekeeper
1934-1937 St. Peter Jefferson Housekeeper
1937-1939 St. Stephen Bridgewater Housekeeper
1939-1942 St. Peter Jefferson Housekeeper
1942-1945 St. Teresa Huron Housekeeper
1945-1946 St. Stephen Anoka Housekeeper
1946-1949 St. Teresa Huron Housekeeper
1949-1951 (Ill – Heart Condition)
1952-1953 St. Mary Catechetical Willmar Housekeeper
1953-1956 St. Lawrence Milbank Housekeeper
1956-1960 St. Thomas Madison Housekeeper
1960-1961 St. Stephen's Bridgewater Housekeeper
1961-1965 St. Mary's Dell Rapids Housekeeper
1965-1968 St. Mary's Sioux Falls Housekeeper
1968-1997 Presentation Heights Aberdeen Prayer
1997-2000 Mother Joseph Manor Aberdeen Retire