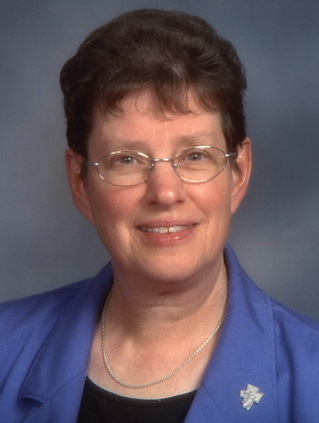 Birth Name: Janet Kay
Current Name: Janet
Religious Name: Mary Miguel
Last Name: Schumacher
Mother's Name: Philomena (Dosch) Schumacher
Father's Name: Michael Schumacher
Hometown: Ipswich, SD
Entry Date: August 31, 1960
Education:
High School:
Ipswich Public High School, Ipswich, SD
College:
1962 - Presentation Junior College, Aberdeen, SD - Associate Teaching Degree
1971 - Northern State College, Aberdeen, SD - Bachelor of Science Degree in Education
1974 - Lutheran Social Service, Rapid City, SD - CPE Training
1979 - Institute of Spiritual Leadership, Jesuit School of Theology, Chicago, IL - CPE Training
1981 - Loyola University, Chicago, IL - Master of Arts Degree in Pastoral Studies
Biography:
For 15 years, Sister Janet taught elementary school children in Catholic schools in Minnesota and South Dakota. For the last 35 years, she has been blessed to serve as a retreat director and spiritual director in Illinois, Wisconsin, Ohio, California, New Mexico, Iowa and South Dakota. From 1981 to 1987, she served as Community Coordinator of Retreat/Spiritual Growth. She treasures 12 years as Chaplain for campus ministry Loyola University in Chicago, IL. Sister Janet was blessed as Spiritual Care Coordinator/Chaplain at June E. Nylen Cancer Center/Hospice of Siouxland, Sioux City, IA until 2016. She currently is a hospice volunteer with Hospice of Siouxland. She gratefully continues being a Spiritual/Retreat Director in Sioux City, IA and Aberdeen, SD.
1963-1966 - St. Mary, Willmar, SD - First Grade
1966-1968 - Holy Spirit, Mitchell, SD - First Grade
1968-1970 - St. Mary, Dell Rapids, SD - Second Grade
1970-1974 - Holy Family, Mitchell, SD - Second Grade
1974-1978 - Sacred Heart, Aberdeen, SD - Fourth and Sixth Grade
1978-1979 - St. Mary, Sioux Falls, SD - Fifth Grade
1981-1988 - Presentation Convent, Aberdeen, SD - Community Retreat Coordinator
1988-1989 - Mercy Retreat Center, Burlingame, CA - Internship and Staff Member
1989-2002 - Loyola University, Chicago, IL - Campus Ministry / Senior Chaplain
2002 - Sangre de Cristo Center, Santa Fe, NM - Associate Director
2003-2016 - June E. Nylen Cancer Center, Sioux City, IA - Spiritual Care Coordinator
2004-2010 - Hospice of Siouxland, Sioux City, IA - Contingent Chaplain and Spiritual Director with Busy Student Retreats on SD campuses
2010 - Coordinator of the Worldwide PBVM Spirituality/Charism Retreat
2016-2021 - Hospice of Siouxland - Hospice Volunteer, Spiritual Director and Retreat Leader in Siouxland/Aberdeen areas