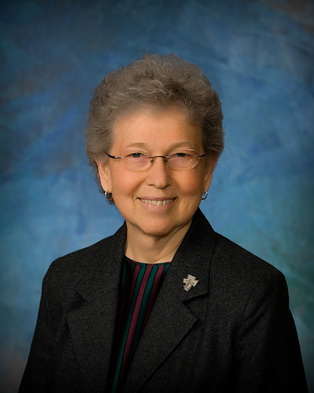 Birth Name: Janice
Current Name: Janice
Religious Name: Mary Merici
Last Name: Mengenhauser
Mother's Name: Evelyn (Wagner) Mengenhauser
Father's Name: Ted Mengenhauser
Hometown: Ravina, Parkston, & Plankinton, SD
Entry Date: February 1, 1956
Education:
College:
1959 - Presentation Junior College, Aberdeen SD - Associate of Arts Degree in Nursing
1961 - Presentation College, Aberdeen, SD - RN
1971 - St. Louis University, St. Louis, MO - Bachelor of Science in Nursing
1978 - Loyola University, Chicago, IL - Master's Degree in Pastoral Studies
Biography:
Sister Janice graduated from Presentation College with a degree in general studies. She went on to obtain a nursing degree from the Presentation Sisters' School of Nursing, Aberdeen, SD, a bachelor's in nursing from St. Louis University, St. Louis, MO, and a master's in pastoral studies from Loyola University, Chicago, IL. She also completed coursework in marriage and family therapy and is a licensed mental health practitioner.
After serving as a nurse in Mitchell, SD, and Miles City, MT for five years, Sister Janice traveled to Chiapas, Mexico, to serve as a nurse in the Presentation Sisters' mission for eight years. Upon her return, she served as director of formation for the Presentation Sisters for seven years before serving 20 years in the field of marriage and family for the Archdiocesan Family Life Office in Omaha, NE and as a bilingual therapist at Heartland Family Service, Omaha, NE. She also conducted empowerment classes for Spanish-speaking women and worked with Hispanic couples and parents.
As Spanish speaking counselor for Catholic Family Services, she works part-time with bilinguals at Caminando Juntos in Sioux Falls. Sister also assists with the L.I.V.E. Leadership Camp for Hispanic Girls and serves as a mentor for the Mujeres y Valores (Women and Values) group, serving on the board of directors for the Hispanic women's group.
1962-1965 - St. Joseph Hospital (Avera Queen of Peace), Mitchell, SD - OR supervisor
1965-1967 - Holy Rosary Hospital, Miles City, MT - Head Surgical Floor Nurse
1967-1976 - Hospital San Carlos, Mexico - Missionary Nursing
1971-1972 - St. Joseph Hospital (Avera Queen of Peace), Mitchell, SD - Staff Nurse OB
1976-1977 - (Avera) McKennan Hospital, Sioux Falls, SD - Staff Nurse ICU
1978-1983 - Presentation College, Aberdeen, SD - Clinical and Religion Instructor
1978-1985 - Presentation Convent, Aberdeen, SD - Formation Director
1984-1985 - St. Frances Cabrini, Omaha, NE - Pastoral Minister
1984-1985 - Archdiocese of Omaha, Omaha, NE - Family Ministry
1985-1986 - Pope Paul VI Institute, Omaha, NE - Natural Family Planning Practitioner
1985-1988 - St. Ann Parish, Omaha, NE- Family Counselor
1985-1998 - Archdiocese of Omaha, Omaha, NE - Leadership Family Training Ministry
1988-2000 - Catholic Charities, Omaha, NE - Bilingual Family Counseling
2000-2005 - Archdiocese of Omaha, Omaha, NE - Urban Family Ministry; Hispanic Marriage & Family Ministry Coordinator