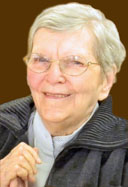 Birth Name: Margot
Current Name: Marietta
Religious Name: Marietta
Last Name: Rourker
Mother's Name: Marion (Mullen) Rourke
Father's Name: Clarence F. Rourke
Hometown: Sioux Falls, SD
Entry Date: January 6, 1939
Current Status: Deceased
Death Date: February 19, 2014
Education:
High School:
Cathedral High School, Sioux Falls, SD
College:
1951 - College of St. Catherine, St. Paul, MN - Bachelor's Degree in Library Science
Biography:
Sister Marietta attended Rosary College, River Forest, IL, earned a Bachelor of Arts degree in Library Science from the College of St. Catherine, St. Paul, MN, and took graduate courses at Northern State College in Aberdeen, SD.
Sister Marietta ministered as a librarian for nearly four decades. She served at St. Luke's School of Nursing and Presentation Junior College, Aberdeen, SD; Sacred Heart High School, Miles City, MT; Notre Dame, Mitchell, SD and Holy Trinity, Winsted, MN. From 1984 to 1989, Sister served as pastoral caregiver at (Avera) Brady Memorial in Mitchell, SD.
Sister Marietta always felt a calling to vowed religious life. She remembered feeling the desire to become a sister when she was in the first grade. "Through these 75 years," Sister Marietta says, "I have always strived to be true to my vocation and have always felt very lucky to have such a happy life."
1941-1942 - St. Joseph, Woonsocket, SD - Food Service
1942-1948 - St. Luke's School of Nursing, Aberdeen, SD - Library
1948-1949 - Presentation Children's Home, Sioux Falls, SD - Kitchen Staff
1949-1950 - (Avera) McKennan Hospital, Sioux Falls, SD - Volunteer
1951-1966 - Presentation Junior College, Aberdeen, SD - Librarian
1966-1969 - Sacred Heart, Miles City, MT - Librarian
1969-1970 - Notre Dame, Mitchell, SD - Librarian
1970-1984 - Holy Trinity, Winsted, MN - Librarian
1984-1989 - (Avera) Brady Memorial, Mitchell, SD - Volunteer
1989-Present - Presentation Convent, Aberdeen, SD - Full-time Prayer Ministry