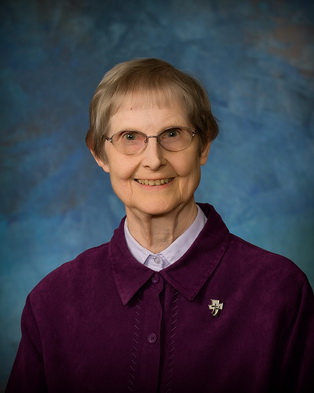 Birth Name: Mary Louise
Current Name: Mary Louise
Religious Name: Mary Cajetan
Last Name: Geraets
Mother's Name: Mary Agnes (Ginsbach) Geraets
Father's Name: Louis Geraets
Hometown: Dell Rapids, SD
Entry Date: August 28, 1958
Education:
High School:
St. Mary High School, Dell Rapids, SD
College:
1961 - Presentation Junior College, Aberdeen, SD - Associate Teaching Degree
1970 - Northern State College, Aberdeen, SD - Bachelor of Science Degree in Elementary Education
Biography:
Sister Mary Lou taught 605 students in seven parish schools over 22 years. She also taught Confraternity of Christian Doctrine or catechism to 321 students and summer vacation religious education to another 352. Sister Mary Lou has touched the lives of a total of 1,278 students in her education career.
Sister then ministered in the student services center at Presentation College, as coordinator of religious education in St. Anthony parish in Linton, ND and spiritual care at Prince of Peace in Sioux Falls, SD and Prince of Peace in Ellendale, ND. For five year, she worked as a home health care giver doing housekeeping and personal care in 107 different households. She worked in the Foster Grandparent Program as a teacher aide for first graders for a year and a half. She now ministers with some of the retired sisters at the Convent, is a social justice animator and assists with the community's recycling efforts. Other life-giving activities include playing piano and accordion, calling friends and being in a book discussion group.
1962-1965 - St. Martin, Huron, SD - Second Grade
1965-1967 - St. Ann, Humboldt, SD - First and Second Grade
1968-1972 - St. Thomas, Madison, SD - Second and Sixth Grade
1976-1978 - St. Stephen, Anoka, MN - Third Grade
1978-1981 - St. Lawrence, Milbank, SD - Second Grade
1981-1984 - Holy Spirit, Mitchell, SD - Second Grade
1984-1989 - Presentation College, Aberdeen, SD - Director of Student Services
1989-1993 - St. Anthony, Linton, ND - Pastoral Ministry
1994-1998 - Prince of Peace, Sioux Falls, SD - Pastoral Care
1995-1998 - Sioux Falls Public School District, Sioux Falls, SD - Substitute Teacher Aid
1998-2002 - Prince of Peace & Evergreen, Ellendale, ND - Spiritual Care
2000-2001 - St. Rose, LaMoure, ND - Spiritual Care
2003-2007 - Sisters Care, St. Paul, MN - Home Health Aide
2008-Present - Presentation Convent, Aberdeen, SD - Companion of Senior Sisters, Social Justice Animator and Tender of Recycling