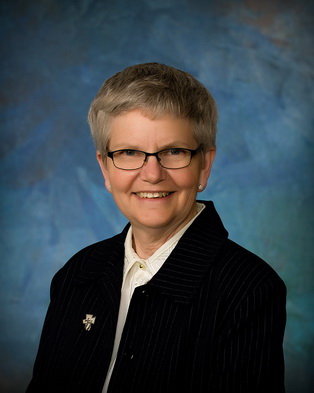 Birth Name: Margaret Mary
Current Name: Pegge
Last Name: Boehm
Mother's Name: Chrystal Marion (Gieldon) Boehm
Father's Name: Henry Jack Boehm
Hometown: Milwaukee, Wisconsin
Entry Date: August 15, 1984
Education:
High School:
1968 - St. John Cathedral School, Milwaukee, Wisconsin
College:
1970 - Milwaukee Area Technical College, Milwaukee, WI - Associate Degree in Business Data Processing
1989 - Creighton University, Omaha, NE - Bachelor of Arts Degree in Theology
1998 - St. John School of Theology, Collegeville, MN - Masters of Divinity Degree
Biography:
Before entering Presentation Convent in August of 1984, Sister Pegge received an Associate Degree in Computer Data Processing, worked in data processing and accounting for First Wisconsin Corporation, a bank holding company of Wisconsin's largest bank for 11 years, ran for state assembly in the 4th Congressional District – the only woman ever to run in that district. Sponsored by the O.F.M. Conv. at St. Josaphat Basilica, Milwaukee, Wi, Sister founded the Secular Franciscan Order in Tlacoachistlahuaca, Guerrero, Mexico, living with the Presentation Sisters at that mission from 1981-1984.
During her second year novitiate, Sister Pegge interned with NETWORK (A National Catholic Social Justice Lobby) in Washington, DC. After earning a bachelor's degree in theology from Creighton University, Omaha, NE, she became director of the Catholic Rural Life Office for the Diocese of Sioux Falls. She later served as director of the Grassroots Rural Ministry for the National Catholic Rural Life Office in Des Moines, IA. She furthered her education at St. John School of Theology, Collegeville, MN, earning a Masters of Divinity Degree, which prepared her for rural parish ministry. She served five years at St. Lawrence Catholic Church, Milbank, SD as their Pastoral Assistant and then served five years with Sr. Darlene Gutenkauf in a rural outreach congregational ministry in Timber Lake, Isabel and Trail City.
Upon returning to Aberdeen, she served several years in Pastoral Hispanic Ministry in Aberdeen area. She served one year as Vocation Director and Director of Evangelization for St. Lawrence, Milbank, SD.
Continuing her work in Hispanic Ministry, she served for 1-1/2 years at the Nora Cronin Presentation Academy, Newburgh, NY as their Graduate Support Program Co-Coordinator. Sister currently serves at Caminando Juntos, a congregational Hispanic ministry in Sioux Falls, SD.
Reflecting upon her vocation, Sister says, "By the merciful love of God, I have the humble privilege of serving those made poor, who constantly remind me of my own poverty and neediness. By the grace of God and the graces of this vocation, I am who I am – sinful and gracefilled."
Boards: Eternal Wish Foundation
Active with: Pax Christi Southeastern, SD; The Naomi Project; Hand-in-Hand; Planning Prayer Bus Tours and Multi-Faith Candlelight Prayer Vigils; Low Interest Loan Fund with GROW SD; and partner with other non-profits, as called upon.
1981-1984 - Immaculate Conception, Tlachoastlahuaca, Guerrero, Mexico - Lay Franciscan Volunteer
1984-1986 - Presentation Formation Program, Omaha, NE - Hispanic Ministry and Tutor
1985: Presentation Convent, Aberdeen, SD - Assisting Treasurer
1986-1987 - NETWORK (A National Catholic Social Justice Lobby), Washington, DC - Intern
1989-1993 - Diocese of Sioux Falls, Sioux Falls, SD - Director of Catholic Rural Life Office
1993-1995 - National Catholic Rural Life Office, Des Moines, IA - Grassroots Rural Ministry Director
1998-2003 - St. Lawrence Catholic Church, Milbank, SD - Pastoral Assistant
2003-2008 - Presentation Sisters Rural Outreach Ministry, Timber Lake SD and area - Rural Minister
2008-2010 - Aberdeen Hispanic Outreach Ministry, Aberdeen, SD - Pastoral Outreach
2010-2011 - Presentation Sisters, Presentation Convent Aberdeen, SD - Vocation Director
- St. Lawrence Catholic Church, , Milbank, SD - Director of Evangelization
2012-2013 - Nora Cronin Presentation Academy, Newburgh, NY - Co-coordinator of Graduate Support Program
2014-Present - Caminando Juntos, Sioux Falls, SD - Resource Support Services