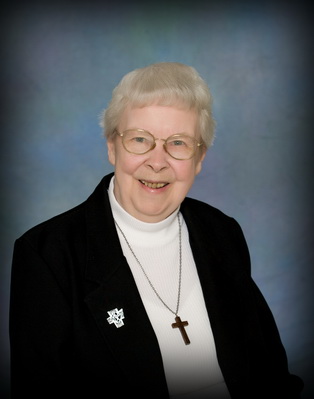 Birth Name: Mary Lucille
Current Name: Virginia
Religious Name: Mary Virginia
Last Name: Hallauer
Mother's Name: Bertha (Sonnenschein) Hallauer
Father's Name: Carl A. Hallauer, Sr.
Hometown: Watertown, SD
Entry Date: September 8, 1946
Education:
High School:
Watertown High School, Watertown, SD
College:
1949 - Presentation Junior College, Aberdeen, SD - Associate Teaching Degree
1968 - Northern State College, Aberdeen, SD - Bachelor of Science Degree in Elementary Education
Biography:
Sister Virginia taught for 42 years in Catholic Schools, but she dedicated over 50 years, including CCD classes, educating children in South Dakota and Minnesota. In 1991, she began a ministry to the homebound at Immaculate Conception Parish in Watertown, SD. She left this ministry in 2006, when she moved to Aberdeen, SD. Sister is active in the congregation's prayer ministry and home bound ministry in Aberdeen.
1949-1950 - St. Peter, Jefferson, SD - First and Second Grade
1950-1951 - St. Stephen, Bridgewater, SD - First and Second Grade
1951-1954 - St. Mary, Dell Rapids, SD - First Grade
1954-1960 - St. Mary, Willmar, SD - First Grade
1960-1961 - Holy Family, Mitchell, SD - First Grade
1961-1965 - St. Thomas, Madison, SD - Second and Third Grade
1965-1972 - Sacred Heart, Aberdeen, SD - First, Second and Fourth Grade and CCD
1972-1976 - St. Mary, Dell Rapids, SD - Third Grade
1976-1977 - St. Thomas, Madison, SD - Fourth Grade and CCD
1977-1983 - St. Thomas, Madison, SD - Primary and CCD
1983-1991 - Immaculate Conception, Watertown, SD - Teacher
1991-2006 - Immaculate Conception, Watertown, SD - Ministered to Homebound
2006-Present - Presentation Convent, Aberdeen, SD - Full-time Prayer Ministry