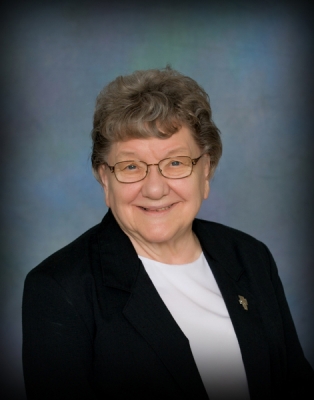 Birth Name: Margaret
Current Name: Antonette
Religious Name: Mary Antonette
Last Name: Krumm
Mother's Name: Clara (Dewald) Krumm
Father's Name: Valentine Krumm
Hometown: Hosmer, SD
Entry Date: September 4, 1955
Current Status: Deceased
Death Date: January 27, 2017
Additional Info: View Sister Antonette's Obituary
Education:
High School:
Hosmer High School, Hosmer, SD
College:
1963 - Presentation Junior College, Aberdeen, SD - Associate Teaching Degree
1970 - Northern State College, Aberdeen, SD - Bachelor of Science Degree in Elementary Education
Biography:
Sister Antonette served in teaching ministries throughout South Dakota and Minnesota for nearly 30 years. During her summers, she assisted with the care of our sick and elderly sisters who were living at (Avera) St. Luke's Hospital, Aberdeen. In 1987, Sister began 17 years of healthcare ministry, serving as a caregiver to sisters residing at Presentation Convent in Aberdeen. Currently, Sister Antonette volunteers her services to the Development Office.
1958-1961 - St. Mary, Dell Rapids, SD - Fourth Grade
1960-1966 - St. Thomas, Madison, SD - Third, Fourth, Fifth and Sixth
1966-1968 - Sacred Heart, Aberdeen, SD - Fourth Grade
1968-1970 - Our Lady of the Lake, Mound, MN - Fourth and Fifth Grade
1970-1973 - Sacred Heart, Aberdeen, SD - Third and Fourth Grade
1973-1975 - (Avera) St. Luke's Hospital, Aberdeen, SD - Sisters' Care
1975-1987 - St. Mary, Dell Rapids, SD Fourth and Fifth Grade
1987-2017 - Presentation Convent, Aberdeen, SD - Sisters' Care, Volunteer, Prayer Ministry