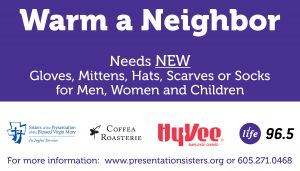 Presentation Sisters Partner to Warm a Neighbor this January
Since 2015, we have partnered with Sioux Falls Christian Radio Station Life 96.5 to focus on our Warm a Neighbor Project. Each month, the radio station highlights a non-profit to address a local need.  They ask their listeners to help this organization by donating items. We have been fortunate to grow this partnership each year and be their "January ministry," collecting warm winter items for clients at Caminando Juntos, our Latino ministry in Sioux Falls.
Our partnerships have grown for this event each year. Hy-Vee has provided their seven grocery store locations each year as collection points. They also offer their stores to us for booth space to educate the shoppers on the project and bring awareness to what we are doing and the needs of our community. The energy has been contagious as Coffea Roasterie has also agreed to assist at three locations in Sioux Falls. We are ever grateful to all of the partners, knowing that together we are warming hundreds of neighbors each winter!
Although a collection box will be at each store throughout the month of January, we would love for you to stop by and see us. We will be at the following Hy-Vee stores during these dates and times:
Wednesday, January 8th – 1:30pm-3pm – Minnesota Avenue
Tuesday, January 14th – 2pm-3pm – Marion Road
Thursday, January 23rd – 2pm-4pm – Louise Avenue
About our sponsored ministry:
Caminando Juntos is Spanish for "walking together", and is also the name of the Presentation Sisters' ministry among the Hispanic people in the Sioux Falls area. Their primary purpose is to help create a welcoming presence and respond to the needs of the newer Latino immigrants as they seek to integrate into this culture and make a home among us.
It has been found that many of the Hispanic people who relocate to Sioux Falls are not prepared for the harshness of the winter climate. They do not have warm gloves, mittens, hats, or scarves to wear. We are asking for your help to provide cold weather accessories for the men, women and children who visit the ministry center for assistance.
Caminando Juntos, which began in 2002, continues to grow as the population in Sioux Falls and the surrounding area becomes more diverse. In January 2011, Caminando Juntos expanded its offices, reception and waiting areas at their Hispanic Ministry Center to better serve the needs of their guests at this growing ministry. At their location, 617 E. 7th Street, the services provided include:
Assistance to accessing healthcare, education, legal and social service systems.
Accompaniment of women and children in abusive relationships.
Visitation to homes, hospitals and state penitentiary.
Education through English classes and citizenship preparation.
Provision of immigration counseling and services by an Accredited Immigration Specialist
Promotion of human rights for Latinos.