Caminando Juntos, sponsored by the Aberdeen Presentation Sisters, is a ministry with the Latino population in the Sioux Falls, South Dakota area. Inspired by the zeal of our foundress, Nano Nagle, and her deep love for those made poor, Caminando Juntos responds to the Gospel mandate to "welcome the stranger" and to work for justice. Our primary purpose is to help create a welcoming presence and respond to the needs of newer Latino immigrants as they seek to integrate into a new culture and make a home in area communities.
Caminando Juntos began in 2002 as a response to the rapidly increasing presence of Latino immigrants in eastern South Dakota. Over these past years, this ministry has welcomed and served thousands of Latinos.
We are Celebrating 20 Years of Service!
One score, 20 years ago, a vision became a reality. Caminando Juntos (Walking Together) was born out of the light from the lantern that Nano Nagle carried over 247 years ago. On September 30, 2022, Caminando Juntos celebrated 20 years of joyful service with our Latino brothers and sisters in the Sioux Falls area. During these years, they have walked with Latino migrants with one purpose in mind, to be a welcoming presence. We invite you to watch these videos, featuring both our historical beginnings and our Open House Celebration.
Caminando Juntos
Through the Years
Caminando Juntos
Open House Celebration
Ministry in Action
The team at Caminando Juntos works to respond to the infinite needs and concerns of our Latino brothers and sisters, by reaching out to them daily and accompanying them in whatever way we can. The language of love heals. The language of love is the Body of Christ. Every day, the staff at Caminando Juntos serves our newly arrived Latino brothers and sisters, mirroring Christ's love as they work to offer a welcoming presence to all providing acceptance, love and hope for each person's journey.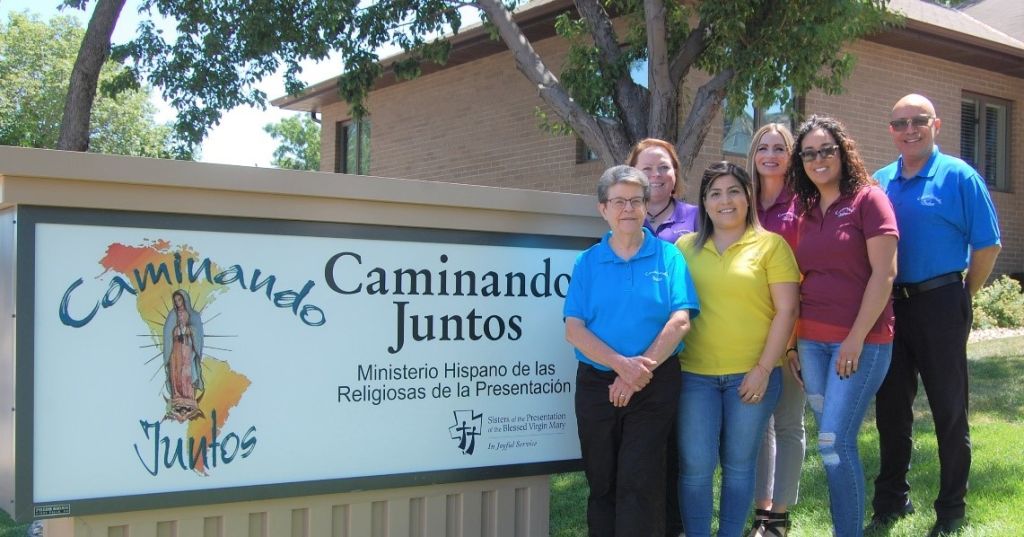 Provide Immigration Legal Services
Sister Janet Horstman and Christy Nicolaisen are passionate in their commitment to educate their clients on their immigration legal options, counsel them on how best to proceed, and represent them through the process of filing their cases and obtaining the desired outcomes. Facilitating their clients' visa processes and seeing families reunited after years of separation is a great joy for Christy and Sister Janet. It is also a wonderful blessing to be present at their clients' naturalization ceremonies and see them become fully participating members of our society. Sister Janet is a Department of Justice Accredited Representative since 2006 and Christy's application for DOJ Accreditation was renewed in 2022. In 2021 we responded to nearly 3,000 immigration calls and consultation requests and filed or represented nearly 200 clients in their immigration cases.
Immigration Facts
We invite you to read some immigration facts.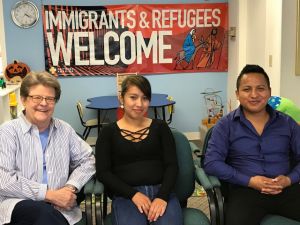 Reunify Unaccompanied Minors with Families
Caminando Juntos continues to assist families as they navigate the complex system of applying for sponsorship and locating their children in shelters on the border and across the country. Through our accompaniment, separated families are joyfully reunited and resettled into the community as one family unit. In 2021 we assisted approximately 20 families with this process.