Memorial Service for Sister Elaine Goodell
Sister Elaine Goodell, 96, a Sister of the Presentation of the Blessed Virgin Mary, died Sunday, March 27, 2022 at Avera Mother Joseph, Aberdeen, SD.
The Memorial Mass will be held at 11:15 a.m. Friday, April 01, 2022 in the Chapel at Presentation Place, 405 9th Ave NE, Aberdeen, SD. Reverend Joseph Sheehan will be celebrant and homilist. Liturgical Wake service is Thursday, March 31, 2022 at 6:15 p.m. in Presentation Place Chapel. Inurnment at Sacred Heart Catholic Cemetery. Spitzer-Miller Funeral Home, 1111 S Main Street, is in charge of arrangements. The service will be live streamed at www.spitzerfuneralhome.com.
Mary Nadine Goodell was born October 24, 1925 in Reeder, ND to Cecil (Springer) and Harry Goodell and graduated from Parker High School, Parker, SD. She entered Presentation Convent July 26, 1944 and professed her vows on August 10, 1947 receiving her religious name of Sister Elaine.
Sister Elaine received a bachelor's of music education from Alverno College, Milwaukee, WI in 1960, and masters and doctorates of music in 1968 and 1972 from Catholic University, Washington DC.
For over 30 years, Sister Elaine shared her love of music through teaching in schools in Huron, Mitchell and Sioux Falls, SD. She also served as Chair of the Presentation College Music Department from 1972-1980.
Always wanting to help others, Sister Elaine's call led her to chaplaincy study and work. She began her pastoral care ministry in Seton Medical Center, Austin, TX and at (Avera) St. Luke's Hospital, Aberdeen, SD. Then, at age 60, she began a 33 year career as a staff chaplain at the Healthcare Chaplaincy, Inc., and Memorial Sloan-Kettering Cancer Center, New York City, NY. Her bubbly spirit and compassionate heart was seen through her selfless care of others. She received numerous awards throughout the years including the Healthcare Chaplaincy's Wholeness of Life Award and American Cancer Society Lane W. Adams Quality of Life Award. She believed listening was one of the greatest gifts a person could give to another.
Sister Elaine is survived by her community family of Presentation Sisters; sisters, Helen Collins, Regina "Genie" Potenza, Colleen (Tom) Madsen and many nieces and nephews.
She is preceded in death by her parents; brother Frank Goodell; and five sisters, Ramona Reilly, Delores Sudduth, Madonna Boone, Patty Braithwaite, and Imelda Healey.
Sister requested that Memorials be sent to the Presentation Sisters to assist their ministries.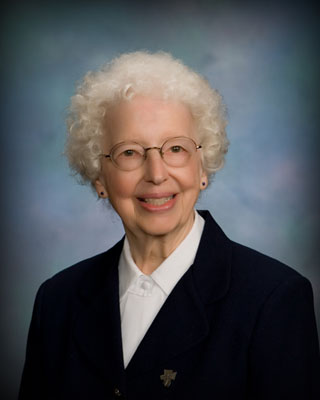 Scriptural Wake Service
Thursday, March 31, 2022
6:15 PM
Memorial Mass
Friday, April 01, 2022
11:15 AM
The Memorial Mass will be livestreamed at www.spitzerfuneralhome.com.
(Please note: Livestream link begins at 11:00 AM.)
All Services will be held in the Chapel at Presentation Place
405 9th Ave NE, Aberdeen SD