Memorial Services for Sister Suzanne Cotter
Sister Suzanne Cotter, 93, a Sister of the Presentation of the Blessed Virgin Mary, died September 18, 2022 at Avera Prince of Peace, Sioux Falls, SD.
Mass of Christian Burial will be 2:00 p.m. on Thursday, September 22, 2022, at Blessed Sacrament Chapel at Presentation Convent, 1500 N 2nd St, Aberdeen, SD. Reverend Mike Kelly and Reverend David Janes will be celebrant and homilist. Visitation will begin at 1:00 p.m. Interment at Sacred Heart Catholic Cemetery. A Spiritual Wake service will be held at 6:30 p.m. on Wednesday, September 21, 2022 at George Boom Funeral Home & On-Site Crematory, 3408 E. 10th St, Sioux Falls, SD. Visitation will begin at 5:30 p.m. The services will be livestreamed by George Boom Funeral Home.
Suzanne Cotter was born December 5, 1928 in Dell Rapids, SD to Regina (Collins) and Joseph Cotter. She attended grade school and high school at St. Mary's in Dell Rapids and graduated from the College of St. Catherine, St. Paul, MN with a Bachelor's in English. She received her Master's in English from the University of Notre Dame, South Bend, IN.
She entered Presentation Convent on September 8, 1948 and made her profession of vows August 10, 1951.
Sister Suzanne shared her enthusiasm, smile and zest for life with students in South Dakota Catholic Schools for over 45 years, teaching in Mitchell, Huron, Aberdeen, Madison, Salem, and Sioux Falls. Mostly teaching in junior and senior high classrooms, a majority of her teaching years were at O'Gorman High School, Sioux Falls, S.D.
She helped establish Marian House in Sioux Falls, which was a vocation, formation and hospitality house that hosted many different retreats, book clubs and small mission groups. She also ministered in mission effectiveness for (Avera) Presentation Health System and as a pastoral and education associate in Sioux Falls for 10 years, as well as serving on a number of boards and committees. She loved to read, crochet, swim, travel and was an avid sports fan. She was a faithful supporter of all O'Gorman activities. She expressed that she hopes people will remember her for, "Who I am, rather than what I have done!"
Sister Suzanne is survived by her community family of Presentation Sisters and many nieces and nephews.
She was preceded in death by her parents; a brother, Joseph Cotter and three sisters: Rosemary Dieltz, Frances Jarchow, Kathleen Drywa and Jane Mary Cotter.
Memorials preferred to Sioux Falls Catholic schools.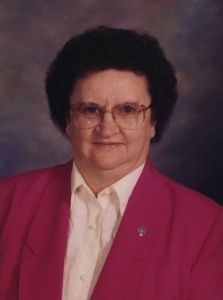 Scriptural Wake Service
Wednesday, September 21, 2022
6:30 PM
George Boom Funeral Home
3408 East 10th Street
Sioux Falls, SD
Memorial Mass
Thursday, September 22, 2022
2:00 PM
Blessed Sacrament Chapel
Presentation Convent
1500 N 2nd Street
Aberdeen, SD