Planting and Growing Seeds of Peace
Sisters Kay O'Neil and Michelle Meyers had the distinction of receiving the first annual Artisan of Peace Recognition by the South Dakota Pax Christi Chapters, via Zoom, on Saturday, February 27, 2021. Present were members from Sioux Falls, Watertown, Brookings and Aberdeen."
The expression, 'artisan of peace', originates with Pope Francis in an address he gave on September 21, 2016, at the World Day of Prayer for Peace in Assisi, when he said, "…believers, regardless of their faith are called to be 'artisans of peace.'" He went on to describe the word for peace a 'challenging art of communion.' In his most recent encyclical, Fratelli Tutti, 231, he continues to describe peace in terms of 'art'. He writes, "there is an 'art' of peace that involves us all…we cannot ignore the involvement of ordinary people."
Father John Dear spoke to the Aberdeen Presentation Sisters around 1998. In conversation Father Dear challenged Sisters Michelle and Kay to start Pax Christi in South Dakota. They organized the annual Growing Peace Conference which drew national speakers. These well-known peace activists included Bishop Tom Gumbleton, Father John Dear, Sister Helen Prejean, CSJ, Jack Nelson-Pallmeyer, Martha Hennessy (grand-daughter of Dorothy Day) and Kathy Kelly. The Presentation Sisters later collaborated on the sponsorship of these conferences with the Benedictine Sisters of Watertown, SD.
Johnny Zokovitch, the Executive Director of Pax Christi USA, has known Sisters Kay and Michelle for the past 30 years, so it was with much joy that he was able to share his admiration for all they have done. He said, "the art of peace requires skill, practice and perseverance. Peace building is not easy. Sisters Kay and Michelle are living examples of what it takes to be peacebuilders. They are truly 'artisans of peace.'"
Through all they have done in the name of promoting peace and justice in our world, it is clear that not only did Sisters Kay and Michelle plant seeds of peace, but peace grew beyond anyone's imagination.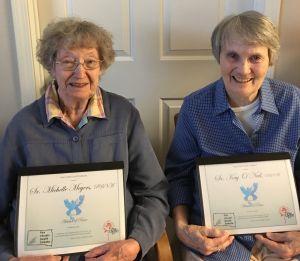 "May the Peace, love, hope and joy
of our non-violent Jesus be with
each of you. No exceptions."
Sister Kay O'Neil