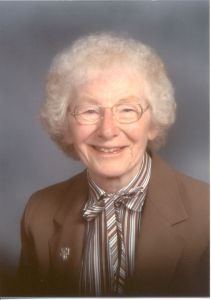 Services for our Dearly Beloved
Sister Mary Aileen Huettl
 Born to Life – April 06, 1927
Profession – August 10, 1950
Born to Eternal Life – December 24, 2018
Welcoming the Body & Rosary:    4:00 PM – Friday, December 28, 2018
Scriptural Wake Service:     6:00 PM – Friday, December 28, 2018, Blessed Sacrament Chapel, Presentation Convent
Mass of Resurrection:     10:00 AM – Saturday, December 29, 2018, Blessed Sacrament Chapel, Presentation Convent
Presider:     Rev. Joseph Sheehan
Internment at Sacred Heart Cemetery
Learn More about Sister Mary Aileen
Sister Mary Aileen Huettl, 91, a Sister of the Presentation of the Blessed Virgin Mary, died December 24, 2018 at the Presentation Convent, Aberdeen, SD.
The Mass of Christian Burial for Sister Mary Aileen Huettl will be held at 10:00 a.m. Saturday, December 29, 2018 in Blessed Sacrament Chapel at Presentation Convent, Aberdeen, SD. Reverend Joseph Sheehan will be celebrant and homilist. The Liturgical Wake service will be Friday, December 28 at 6:00 p.m. in the Blessed Sacrament Chapel.
Visitation will begin at 4 p.m. Blessed Sacrament Chapel, Presentation Convent.  Spitzer-Miller Funeral Home is in charge of arrangements.  Internment at Sacred Heart Catholic Cemetery.
Mary Aileen was born April 6, 1927 to Mary Lucile (Doyle) and George R. Huettl at Britton, SD.  She attended a rural elementary school and graduated from Central High School in Aberdeen in 1945.  In January 1948 she entered Presentation Convent while attending St. Luke's School of Nursing in Aberdeen, graduating in 1950.  Sister made her first profession of vows August 10, 1950.  Sister Mary Aileen received a Bachelor degree in Nursing from Marquette University, Milwaukee, WI in 1966 and a Master's degree in Social Work from Catholic University, Washington, DC in 1968.  Sister ministered as a geriatrics nurse, medical-surgical nurse and head medical-surgical nurse at Holy Rosary Hospital, Miles City, MT, St. Joseph Hospital, Mitchell, SD and McKennan Hospital in Sioux Falls, SD from 1951 to 1959. She served as a social worker with Catholic Social Services, Sioux Falls from 1968-1975, during which time she helped many families adopt children, and as a Parish Visitor at St. Joseph Cathedral (1978-1979). She ministered in pastoral care at McKennan Hospital (1979-1986), Madison, SD (1990-1997) and Brady Memorial Home, Mitchell, SD (1997-2007).  Sister retired into prayer ministry at the Presentation Convent in 2007.  Sister Mary Aileen expressed  the heart of her ministry was sharing God's presence and love with a listening heart to people in all walks of life.
Sister Mary Aileen is survived by her Presentation Community of Sisters, sister-in-law Kathy Courtney, nephew Ted (Lucie) Huettl and nieces Patrice, Julie, Sheila and Ann Huettl.  She is preceded in death by her parents and two brothers, Homer (Rita) and George.
The Aberdeen Knights of Columbus will serve as active pall bearers.  Memorials may be directed to the Sioux Falls Diocese for the Mother Teresa Fund.