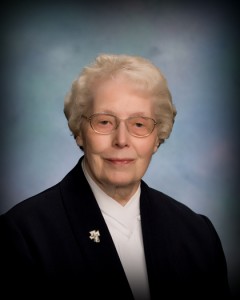 Services for our Dearly Beloved
Sister Mary Denis Collins
Born to Life – March 23, 1934
Profession – August 10, 1955
Born to Eternal Life – February 25, 2019
Welcoming the Body & Rosary:  4:00 PM – Wednesday, February 27, 2019
Scriptural Wake Service:  6:00 PM – Wednesday, February 27, 2019, Blessed Sacrament Chapel, Presentation Convent
Mass of Resurrection:  11:00 AM – Thursday, February 28, 2019, Blessed Sacrament Chapel, Presentation Convent
Presider: Rev. Michael Kelly
Internment at Sacred Heart Cemetery at a later date
Learn More about Sister Mary Denis
Sister Mary Denis Collins, 84, a Sister of the Presentation of the Blessed Virgin Mary, died Monday, February 25, 2019 at the Presentation Convent, Aberdeen, SD.
Mass of Christian Burial will be held at 11:00 a.m. Thursday, February 28, 2019 in Blessed Sacrament Chapel at Presentation Convent, Aberdeen, SD. Reverend Mike Kelley will be celebrant and homilist. Liturgical Wake service will be Wednesday, February 27, 2019 at 6:00 p.m. in the Blessed Sacrament Chapel and visitation will begin at 4 p.m.  Interment at Sacred Heart Catholic Cemetery at a later date. Spitzer-Miller Funeral Home, 1111 S Main Street, is in charge of arrangements.
Colleen Collins was born on March 23, 1934 in Wibaux, MT to Denis and Mary (Chamberlain) Collins. After graduating from Sacred Heart High School in Miles City, MT she entered the Presentation Congregation on September 8, 1952 and professed her vows August 10, 1955 receiving her religious name of Sister Mary Denis Collins.
Sister Mary Denis Collins attended Presentation College and earned a bachelor's degree in Business Administration at Colorado State University. She later studied health care administration at the University of Minnesota.  During her ministry she served as Business Manager, St. Luke's 1958-1968, Assistant Administrator, Holy Rosary Hospital, Miles City, MT 1969-1974 and Director of Personnel and Support Services, Presentation College 1974-1978. She ministered at the Barrett House, a shelter for homeless women and children in Albuquerque, NM 1986-1988.
Sister Mary Denis was elected to the Presentation Sisters Leadership Council, 1978-1982 and as President of the congregation 1982-1986. She served a second term as a Leadership Council member 1998-2005.
She was Vice President of Presentation Health System 1988-1998 and served as a member of the Avera Health System 2006-2010 before retiring to prayer ministry at the Presentation Convent. Sister Mary Denis loved music, dancing, walks, playing dominoes and bingo.
Sister Mary Denis Collins is survived by her community family of Presentation Sisters, many nieces and nephews including Georgia Anderson and Tim Prater.  She is preceded in death by her parents, 3 sisters, Blanche Jakin, Lauretta Nunberg, Peggy Griffith and 4 brothers, James, Tim, David and Bobby.