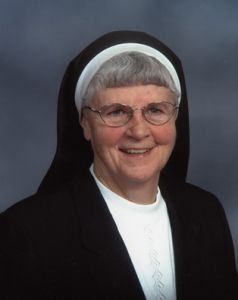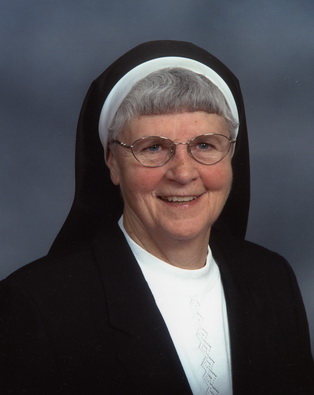 Services for our Dearly Beloved
Sister Roch Whittaker
Born to Life – July 03, 1936
Born to Eternal Life – November 18, 2019
ROSARY          4:00 PM – Wednesday, November 20, 2019
Rosary led by Sister Josita
SCRIPTURAL WAKE SERVICE          6:00 PM – Wednesday, November 20, 2019
Blessed Sacrament Chapel, Presentation Convent
RESURRECTION LITURGY       11 AM – Thursday, November 21, 2019
Blessed Sacrament Chapel, Presentation Convent
Rev. Joseph Sheehan
Inurnment at Sacred Heart Cemetery
HONORARY BEARERS of CREMAINS
Sister Jo Ann Sturzl, Sister Teresita Schaefbauer, Sister Patrick Leonard Murphy, Sister Lynn Marie Welbig, Sister Kay O'Neil, Sister Michelle Meyers, Sister Joan Marie Brandner, Sister Pat Prunty                              
Sister Roch Whittaker, 83, a Sister of the Presentation of the Blessed Virgin Mary, died November 18, 2019 at Presentation Convent, Aberdeen, SD.
The Memorial Mass will be Thursday, November 20, 2019 at 11:00 a.m., Blessed Sacrament Chapel at Presentation Convent, Aberdeen, SD. Reverend Joseph Sheehan will be celebrant and homilist. Inurnment at Sacred Heart Catholic Cemetery.
Rosary will be at 4:00 p.m. Wednesday, November 20, 2019 and a Scriptural Service and sharing of memories will follow at 6 p.m. in the Blessed Sacrament Chapel. Spitzer-Miller Funeral Home, 1111 S Main Street, is in charge of arrangements.
Ruth Ann Whittaker was born July 3, 1936 in Mound, MN to Myrtle (Koehler) and Charles Whittaker and graduated from Mound, MN high school. She entered Presentation Convent September 5, 1954 and professed her vows on August 10, 1957, receiving her religious name of Sister Roch.
Sister Roch became a licensed practical nurse in 1959 at St. Joseph's Hospital (Avera Queen of Peace), Mitchell and in 1969 earned a bachelor's in Education from Northern State University.
Sister Roch's ministry in education spanned for over 20 years as she taught in Huron, Mitchell, and Dell Rapids, SD also in Miles City, MT and Anoka, MN. In 1980, Sister Roch returned to health care ministry as mission coordinator at Holy Rosary Hospital, Miles City, MT, and in 1982 she served as director of mission effectiveness at (Avera) McKennan Hospital, Sioux Falls for 14 years.  She dedicated herself to the care of the elderly in 1996 and served in Dubuque, IA, Northfield, MN and St. Mary's Parish, Dell Rapids. Sister Roch enjoyed trips to Ireland and other European countries, working outdoors, writing, sports, singing and visiting with friends. She will be forever remembered for her faithfulness, hard work, and joyful sharing of her love of God with others.
Sister Roch is survived by her community family of Presentation Sisters; brothers Russ (Winnie) Whittaker, Frank (Myrene) Whittaker, Bob (Karen) Whittaker, James Whittaker (Al Chagoya), Dick (Merry) Whittaker, sister-in-law  Gladys Whittaker, brothers-in-law James Cranston, Lowell Andrews and many nieces, nephews, cousins and friends.
She is preceded in death by her parents, sisters Marie "Snip" Steinberger, Estella Lukoskie, Irene Gelhaye, Jane Cranston, Kay Andrews, infant Laura Whittaker; brothers Dale and Charles Whittaker.