The center of life for the Presentation Sisters is prayer. It is through this relationship with Christ that each sister finds strength and support for her ministry. Presentation community life allows the sisters to share this spiritual grounding with each other as they live out their vocational call.
Mass Times
In addition to our special individual times of prayer and praise, we spend time each day sharing in prayer and taking part in Mass as a faith community.
We invite you to nourish your spiritual life in the Presentation spirit by joining us for Mass at our Blessed Sacrament Chapel at Presentation Convent. Mass times may vary from week to week and times are subject to change. Please call the Convent at 605-225-0420 for additional information regarding Mass.
Sunday: 10:30am
Monday: 12:00pm
Tuesday: 12:00pm
Wednesday: 12:00pm
Thursday: 12:00pm
Friday: 12:00pm
Saturday: 11:00am
Adoration:
In 1906, Bishop O'Gorman asked the Sisters of the Presentation of the Blessed Virgin Mary to begin perpetual Eucharistic Adoration for the needs of the people in the Sioux Falls diocese. We continue this practice of daily Eucharistic Adoration as we gather daily in our Adoration Chapel; spending time in this sacred space offering prayers for the intentions of those who have requested prayer, for the needs of the people of the diocese, the nation and the world. (IT SAYS WE DO THIS DAILY, BUT DO NOT HAVE LIST ADORATION ON WEDNESDAYS??)
This practice has been an essential element of Presentation life in community. A facet that keeps this prayer ministry current and relevant is our prayer line ministry. Individuals throughout the world contact us and request that we pray for their intentions.
Please join us for Adoration:
Sunday: 12:30 – 3:45pm
Monday: 9:00am – 3:45pm
Tuesday: 9:00am – 3:45pm
Wednesday: there is no Adoration on Wednesdays
Thursday: 9:00am – 3:45pm
Friday: 9:00am – 3:45pm
Saturday: 12:30 – 3:45pm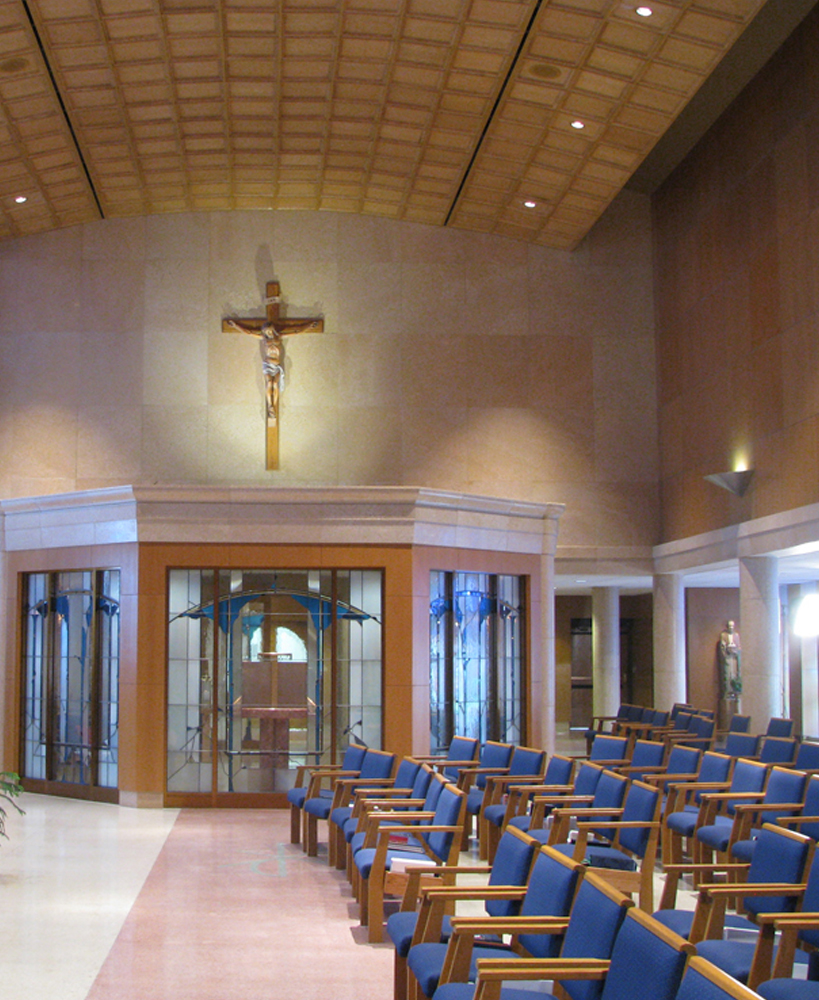 Praying the Rosary:
The Rosary is a special set of prayers to God that helps us to remember the most important events in the lives of Mary and Jesus. The Rosary helps us to remember these principal events in the history of our salvation as we thank and praise God. There are a total of 20 Mysteries that tell the story of Mary and Jesus. These are divided into four groups of five:
Joyful Mysteries
(prayed on Monday and Saturday)
The annunciation to Mary that she is to be the mother of the Savior
The visitation of Mary to her cousin Elizabeth
The nativity of Jesus Christ
The presentation of the infant Jesus in the Temple
The finding of the child Jesus in the Temple
Luminous Mysteries
(prayed on Thursday)
Christ's baptism in the Jordan River
Christ's self-manifestation at the wedding at Cana
Christ's proclamation of the Kingdom of God with his call to conversion
Christ's transfiguration
Christ's institution of the Eucharist
Sorrowful Mysteries
(prayed on Tuesday and Friday)
The agony of Christ in the garden
The scourging of Jesus at the pilar
The crowning with thorns
The carrying of the Cross
The crucifixion and death of Jesus
Glorious Mysteries
(prayed on Sunday and Wednesday)
The resurrection of Jesus
The ascension of the Lord into heaven
The descent of the Holy Spirit
The assumption of Mary into heaven
The coronation of Mary in heaven