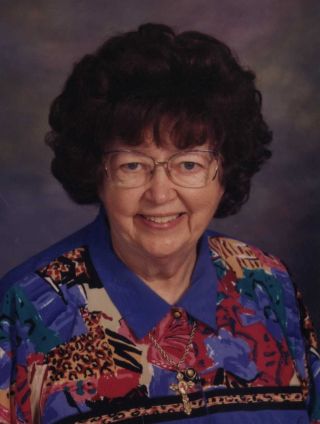 Birth Name: Margaret Mary
Current Name: Aloysius
Religious Name: Aloysius
Last Name: Clarke
Mother's Name: Mary (McDonald) Clarke
Father's Name: Frank Clarke
Hometown: Ethan, S.D.
Entry Date: September 8, 1946
Current Status: Deceased
Death Date: June 13, 2001
Additional Info: View Sister Margaret Mary's Obituary
Biography:
Sister was a fifth and sixth grade teacher and later taught home economics.
Madison, S.D.
Dell Rapids, S.D.
O'Gorman, Sioux Falls, S.D.
She taught Home Economics at O'Gorman High School in Sioux Falls, SD for 40 years. She was involved with the Search Retreat Program in Aberdeen, SD and was a nurturing aunt to a multitude of nieces and nephews fondly remembered as Sr MM (the nun named after a candy bar)
Poem/Song
She'll teach you how to bake
She'll teach you how to sew.
She'll teach you how to keep your ducks in a row.
With her dimple warm smile and
Her hands on her hips and
A bowl of Lay's potato chips
Trips to the Sachses
In a Tom car
With a nun named after a candy bar.
We Love You
She'll take you to McDonald's
It's Lumpy Linda Day
With DQ for dessert, it's right on the way
You'll be in her prayers
For that dreaded test
She'll make you feel like you stand out from the rest.
Overnights were full
Of games and fun
Animal pancakes, parables rolled into one.
She'll threaten you in heaven
That you'll eat all your words
On the way to Tom's farm, we'll count all the herds
You may be called Abie, sugarplum or kid It's great to find the presents that she hid
She'll play "go fish"
Celebrate Eddy day
Sends a care package when you're far away
She'll teach you how to bake and
She'll teach you how to sew.
I take her love with me everywhere I go
By Linda Johansen Mullen (Niece) and her husband David
A Jubilee message from her family:
Sister MM an amazing individual, celebrates her 50 year jubilee as a Presentation Sister. She grew up in Ethan, SD and joined the convent in her early 20's. She still teaches Home Economics at O'Gorman High School in Sioux Falls. Over the years, Sr. MM has taught thousands of students how to cook, sew, how to parent and how to enjoy life.
As she goes about her life's work, she always keeps her favorite candy, M&M's, in her pocket and in her office for treats for her students. With Sister MM around, every school party and family holiday has lots of M&M's. Her nieces and nephews report finding them under their pillows when they go to sleep at night.
In addition to her teaching duties, Sister MM gives of herself continually by making quilts, visiting the sick, working with youth retreats and helping others. She has gone on my trips to Appalachia with students to help the poor. You can be sure on these journeys that she brought M&M's to share. 4 cases were donated