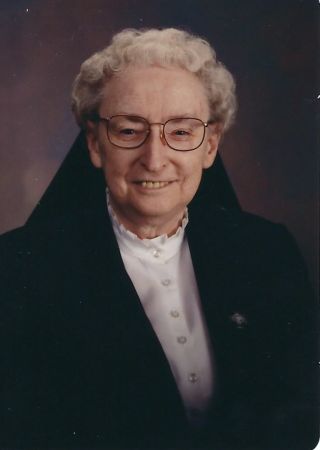 Birth Name: Barbara
Current Name: Armella
Religious Name: Mary Armella
Last Name: Stratman
Mother's Name: Caroline (Koch) Stratman
Father's Name: Alben Stratman
Hometown: Wessington and Artesian, SD
Entry Date: September 12, 1947
Current Status: Deceased
Death Date: June 25, 2022
Additional Info: View Sister Armella's Obituary
Education:
High School:
Wessington High School, Wessington, SD
College:
1943 - Notre Dame Junior College, Mitchell, SD - State Certificate in Education
1956 - Presentation Junior College, Aberdeen, SD - Associate of Science Degree in Teaching
1969 - Northern State College, Aberdeen, SD - Bachelor of Science Degree in Education
Biography:
Sister Armella dedicated more than 50 years to education ministry in South Dakota and Minnesota. After retiring from teaching, she volunteered at (Avera) Brady Memorial Home. In 2005, she moved to Aberdeen, where she continues to serve in prayer ministry. She credits her parents with fostering her vocation. Through their faithfulness, they set an example of the importance of Mass, prayer and the love and respect they showed for the priests and sisters.
1943-1944 - Wise School, Artesian, SD - Rural Teacher
1944-1946 - Clear Lake School, Humbolt, SD - Rural Teacher
1946-1947 - Harrisburg School, Harrisburg, SD - Rural Teacher
1950-1951 - St. Ann, Humboldt, SD - Third and Fourth Grade
1951-1952 - St. Thomas, Madison, SD - Third of Fourth Grade
1952-1953 - Presentation Children's Home, Sioux Falls, SD - Third, Fourth and Fifth Grade
1953-1954 - St. Ann, Humboldt, SD - Third and Fourth Grade
1954-1959 - St. Thomas, Madison, SD - Third and Fourth Grade
1959-1964 - Holy Family, Mitchell, SD - Fourth Grade
1964-1968 - Holy Spirit, Mitchell, SD - Second and Third Grade
1968-1972 - St. Stephen, Anoka, MN - Third Grade
1972-1983 - Holy Spirit, Mitchell, SD - Second and Third Grade
1983-1989 - St. Lawrence, Milbank, SD - Second Grade
1989-1992 - Immaculate Conception, Watertown, SD - Tutor and Kindergarten Aid
1995-2005 - (Avera) Brady Memorial, Mitchell, SD - Cook
2005-Present - Presentation Convent, Aberdeen, SD - Full-time Prayer Ministry