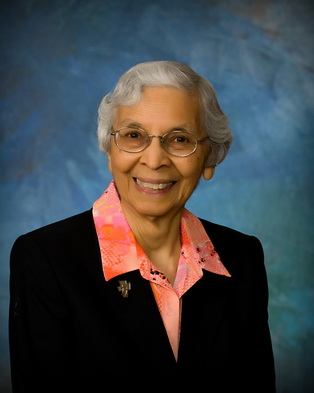 Birth Name: Maximiana (Maxeen)
Current Name: Consuelo
Religious Name: Mary Consuelo
Last Name: Covarrubias
Mother's Name: Eulalia (Apesechea) Covarrubias
Father's Name: Juan Covarrubias
Hometown: Carterville, MT
Entry Date: September 3, 1953
Education:
Grade School:
Rosebud Grade School, Rosebud, MT
High School:
Rosebud High School, Rosebud, MT
College:
1959 - Presentation Junior College, Aberdeen, SD - Teaching Certificate
1971 - Marquette University, Milwaukee, WI - Bachelor of Science Degree in Spanish
1978 - Antioch College, Yellow Springs, OH - Master of Arts in Education Guidance & Counseling
1989 - College of St. Catherine, St. Paul, MN - Master of Arts in Theology
1998 - Catholic Theological Union, Chicago, IL - Theological Studies
Biography:
Sister Consuelo taught elementary and middle school at several parishes throughout South Dakota and Minnesota for over twenty years before serving as a bilingual high school counselor in Milwaukee, WI. She ministered as a Pastoral Associate at Our Lady of Guadalupe Parish in St. Paul, MN from 1979 to 1985, and was the Director of the Hispanic Ministry Office for the Archdiocese of St. Paul and Minneapolis, MN from 1985 to 1987. From 1989 to 1992, Sister Consuelo served as Director of Religious Education and Pastoral Minister at St. Ita Parish in Chicago, IL. She served as Associate Director of Diocesan Hispanic Ministry for the Diocese of Gary, IN from 1992 through 1997, and Coordinator of Hispanic Ministry for five parishes in Walworth County, WI from 1998 to 2002. Sister Consuelo ministered at Caminando Juntos, the Presentation Sisters' sponsored Hispanic Ministry in Sioux Falls, SD for ten years before moving to Aberdeen to serve part-time with the local Hispanic ministry.
1955-1957 - St. Mary, Sioux Falls, SD - Third Grade
1957-1959 - St. Stephen, Anoka, MN - Seventh and Eighth Grade
1959-1960 - St. Ann, Humboldt, SD - Seventh and Eighth Grade
1960-1964 - Holy Family, Mitchell, SD - Seventh Grade
1964-1966 - St. Lawrence, Milbank, SD - Seventh and Eighth Grade
1966-1967 - Our Lady of the Lake, Mound, MN - Seventh and Eighth Grade
1967-1969 - St. Mary, Sioux Falls, SD - Seventh and Eighth Grade
1971-1976 - Veau Elementary, Milwaukee, WI - Bilingual Eduction
1977-1979 - South Division High, Milwaukee, WI - Bilingual Counselor
1979-1985 - Guadalupe Parish, St. Paul,MN - Parish Ministry
1985-1987 - Archdiocese of St. Paul-Minneapolis, St. Paul, MN - Director of Office of Hispanic Ministry
1989-1992 - St. Ita, Chicago, IL - Director of Religious Education and Hispanic Ministry
1992-1997 - Diocese of Gary, East Chicago, IN - Associate Director of Hispanic Ministry
1998-2002 - Walworth County, Delavan, WI - Coordinator of Hispanic Catholic Ministry
2002-2012 - Caminando Juntos, Sioux Falls, SD - Hispanic Ministry
2012-Present - Aberdeen Area Hispanic Outreach Ministry, Aberdeen, SD - Hispanic Ministry