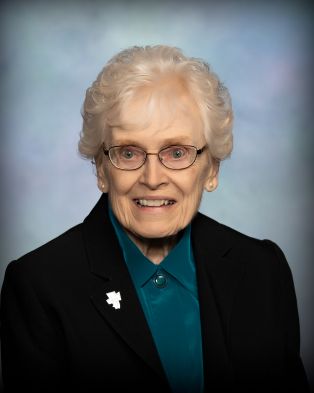 Birth Name: Darlene
Current Name: Darlene
Religious Name: Camille
Last Name: Gutenkauf
Mother's Name: Magdalena (Waldman) Gutenkauf
Father's Name: Harold Gutenkauf
Entry Date: January 2, 1959
Current Status: Deceased
Death Date: October 31, 2022
Additional Info: View Sister Darlene's Obituary
Education:
College:
1959 - Presentation Junior College, Aberdeen, SD - Associate Teaching Degree
1971 - South Dakota State University, Brookings, SD - Bachelor of Science Degree in Home Economics
1986 - Loyola University, Chicago, IL - Masters in Pastoral Studies
Biography:
In 1957, Sister Darlene Gutenkauf completed a one year teacher training course at Presentation Junior College, and taught in a rural school for one year before returning to Presentation Junior College for a second year. During that year, she entered the Presentation congregation. For 20 years, Sister Darlene's ministries focused on educating children in fourth through twelfth grades. Upon completion of a master's degree in pastoral ministry at Loyola University, Chicago, IL, Sister became a pastoral team member in three different groups of parishes serving in 14 parishes over the next 18 years.
Sister Darlene has also served as a member of the Presentation College Board, a member of several congregational teams, and as Vocation and Cojourner Director. She currently serves on the Convent Liturgy Committee Member and is a Mass Cantor.
1962-1965 - Holy Family, Mitchell, SD - Fourth and Fifth Grade
1965-1966 - St. Peter, Jefferson, SD - Fifth and Sixth Grade
1966-1967 - St. Joseph, Woonsocket, SD - Fifth and Sixth Grade
1967-1969 - Our Lady of the Lake, Mound, MN - Seventh and Eighth Grade
1969-1970 - Holy Family, Mitchell, SD - Seventh and Eighth Grade
1971-1976 - St. Mary, Dell Rapids, SD - Home Economics and Religion
1976-1978 - Gehlen High School, LeMar's, IA - Home Economics
1979-1984 - Roncalli, Aberdeen, SD - Home Economics and Religion
1984-1988 - Six Rural Parishes, North Central SD - Pastoral Ministry Team Member
1988-1993 - Presentation Convent, Aberdeen, SD - Vocation and Cojourner Director
1994-2003 - St. Bridget, DeGraff, MN - Pastoral Team Member, Pastoral Administrator and Religion and Liturgy Coordinator
2003-2008 - Rural Outreach Ministry, Timber Lake, SD - Pastoral Ministry Team Member
2008-2017 - Presentation Convent, Aberdeen, SD - Cojourner Co-Director
2008 - Present - Convent Liturgy Committee Member and Mass Cantor