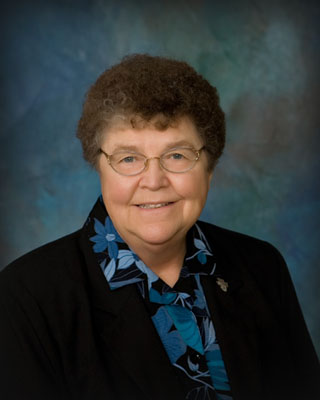 Birth Name: Donata
Current Name: Donata
Religious Name: Donna
Last Name: Daml
Mother's Name: Helen (Blommer) Daml
Father's Name: Peter Daml
Hometown: Anoka, MN
Entry Date: September 5, 1954
Current Status: Deceased
Death Date: January 27, 2018
Additional Info: View Sister Donata's Obituary
Education:
Grade School:
St. Anne's School
High School:
Anoka High School, Anoka, MN
College:
1957 - Presentation Junior College, Aberdeen, SD - Associate Teaching Degree
1970 - Northern State College, Aberdeen, SD - Bachelor Science Degree in Education
1990 - Northern State University, Aberdeen, SD - Master of Science Degree in Guidance & Counseling
Biography:
Sister Donata taught third through eighth grades in Dell Rapids, Huron, Humboldt, Mitchell, Aberdeen, Milbank and Watertown, SD as well as in Mound and Anoka, MN for nearly three decades before she began working as a recruiter at Presentation College, Aberdeen, SD.
In 1991, Sister Donata felt called to minister to the Native American students at the Presentation College Lakota Campus, Eagle Butte, SD. After ministering at the Lakota Campus 16 years, Sister Donata returned to Presentation Convent in Aberdeen to serve in full-time prayer ministry.
1957-1958 - Our Lady of the Lake, Mound, SD - Third Grade
1958-1959 - St. Mary, Dell Rapids, SD - Fifth Grade
1959-1961 - St. Martin, Huron, SD - Fourth and Fifth Grade
1961-1963 - St. Ann, Humboldt, SD - Seventh and Eighth Grade
1963-1964 - St. Mary, Dell Rapids, SD - Sixth Grade
1964-1965 - Holy Spirit, Mitchell, SD - Fifth Grade
1965-1967 - Sacred Heart, Aberdeen, SD - Eighth Grade
1967-1970 - St. Lawrence, Milbank, SD - Fifth and Sixth Grade
1970-1975 - St. Mary, Dell Rapids, SD - Seventh Grade
1975-1983 - St. Stephen, Anoka, MN - Fifth Grade
1983-1984 - Immaculate Conception, Watertown, SD - Fourth Grade
1984-1990 - Presentation College, Aberdeen, SD - Admission Recruiter/Assistant Director
1991-2007 - Presentation College Lakota Campus, Eagle Butte, SD - Instructor, Counselor and Coordinator of SSC
1994-2002 - Sacred Heart Center, Eagle Butte, SD - Counselor & Instructor
2007-Present - Presentation Convent, Aberdeen, SD - Full-time Prayer Ministry