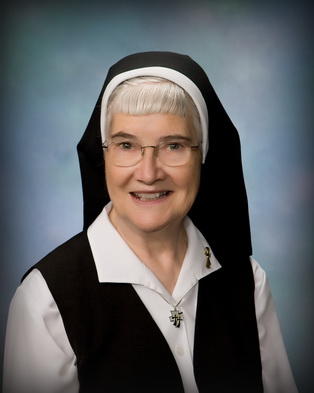 Birth Name: Eileen
Current Name: Eileen
Religious Name: Mary Virgine
Last Name: Ford
Mother's Name: Julia (Grady) Ford
Father's Name: William A. Ford
Hometown: Dorchester, MA
Entry Date: September 14, 1949
Education:
Grade School:
Public School of Boston, MA
High School:
Northern State University G.E.D program, Aberdeen, SD
College:
1972 - Presentation College, Aberdeen, SD - Associate of Science Degree in Business/Secretarial
Biography:
Sister Eileen earned an associate's degree from Presentation College, Aberdeen, SD, and served in domestic service prior to completing continuing education in preparation for the ministry of pastoral care.
Sister served in pastoral care and outreach ministry at (Avera) St. Luke's Hospital and (Avera) Mother Joseph Manor, both in Aberdeen, for nearly 20 years before retiring. Sister Eileen served as a Foster Grandparents at C.C. Lee Elementary in Aberdeen for 11 years before serving in part-time prayer ministry and Convent Community Services.
"All of life calls for sacrifices in one way or another," she says. "But the rewards of giving oneself to the service of God and neighbor are like none other in regard to growing in what God made us for."
1952-1953 - Butler Hall, Aberdeen, SD - Alter Bread Worker
1953-1954 - Notre Dame, Mitchell, SD - Assist in Tray Line and Sisters' Dining Room
1955-1965 - (Avera) St. Luke's Hospital, Aberdeen, SD - Sister and Priest Dining Room
1965-1966 - Milwaukee University, Milwaukee, WI - Assistant Cook
1966-1968 - Our Lady of the Lake, Mound, MN - Housekeeper
1969-1970 - St. Mary Convent, Sioux Falls, SD - Food Service
1972-1973 - Presentation College, Aberdeen, SD - Book Store Manager
1973-1974 - Holy Rosary Hospital, Miles City, Mt - Switchboard Operator
1974-1975 - (Avera) Brady Memorial Home, Mitchell, SD - Tray Line and Sisters' Dining Room Supervise
1975-1979 - (Avera) St. Luke's Hospital, Aberdeen, SD - Physical Therapy Aid
1980-1983 - (Avera) Mother Joseph Manor, Aberdeen, SD - Pastoral Care/Activities/Social Service Designer
1983-1987 - (Avera) St. Luke's Hospital, Aberdeen, SD - Pastoral Care
1987-2002 - (Avera) Mother Joseph Manor, Aberdeen, SD - Adult Day Care & Outreach
2002-2013 - CC Lee School, Aberdeen, SD - Foster Grandparent Aid
2013-Present - Presentation Convent, Aberdeen, SD - Community Service and Prayer Ministry