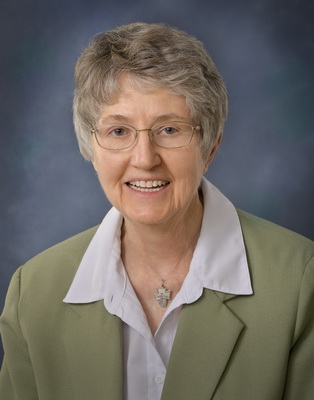 Birth Name: Francene
Current Name: Francene
Religious Name: Ruth Ann
Last Name: Evans
Mother's Name: Mary Ruth Evans
Father's Name: Cyril Evans
Hometown: Aberdeen, SD
Entry Date: January 4, 1957
Education:
High School:
Aberdeen Central High School, Aberdeen, SD
College:
1963 - Marquette University, Milwaukee, WI - Bachelor of Arts Degree in Psychology
1965 - Marquette University, Milwaukee, WI - Master of Arts Degree in Psychology
1973 - University of Minnesota, MN - PhD in Psychology in Higher Education
Biography:
Sister Francene's ministries include teaching in high schools and colleges for many years. She also served as congregational vice president, assisted in resettling Vietnamese refugees, ministered as a hospital chaplain and as an adult faith formation leader. A semester in spent in Japan, teaching psychology and studying Japanese history and culture was a highlight of her sabbatical experience. Sister served on the Congregational Leadership Council from 2010-2018.
1964-1965 - Presentation Junior College, Aberdeen, SD - Psychology and Sociology
1963-1967 - Sacred Heart High School, Miles City, MT - Teacher; Counselor
1967-1968 - Notre Dame Academy, Mitchell, SD - English
1968-1970 - Presentation College, Aberdeen, SD - Psychology and Sociology
1970-1972 - Hospital Chaplaincy, Aberdeen, SD and Rochester, MN
1972-1974 - National Institute of Mental Health, Minneapolis, MN - Seminar Consultant; Coordinator
1974-1978 - Sioux Falls College, Sioux Falls, SD - Psychology
1978-1982 - Presentation Convent, Aberdeen, SD - Congregational Vice President
1981-1983 - Lutheran Social Services, Aberdeen, SD - Vietnamese Refugee Resettlement
1984-2004 - Worthington Community College, Worthington, MN - Psychology; Sociology; Human Services Coordinator
2004-2005 - Student at the Jesuit School of Theology, Berkeley, CA
2005-2007 - Presentation Convent & College, Aberdeen, SD - Library Aide; Grant Writer
2008-2010 - Formative Community Coordinator
2010-2018 - Presentation Convent, Aberdeen, SD - Leadership Council