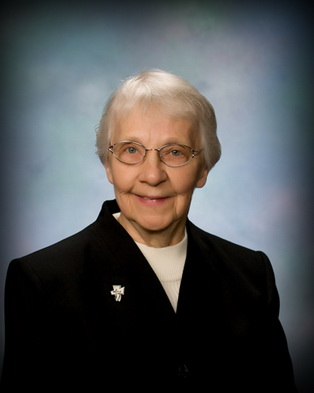 Birth Name: Ann LaVonne
Current Name: Gabriella
Religious Name: Mary Gabriella
Last Name: Crowley
Mother's Name: Elizabeth (Eggen) Crowley
Father's Name: Daniel Crowley
Hometown: Henry, SD
Entry Date: January 5, 1953
Education:
High School:
Henry High School, Henry, SD
College:
1955-1958 - Presentation Junior College, Aberdeen, SD
1958 - St. Catherine's College, St. Paul, MN - Bachelor of Science Degree in Food & Nutrition
Biography:
Sister Gabriella Crowley served as a dietitian at Presentation sponsored hospitals in Montana and South Dakota for 14 years before she began ministering to the Lakota people of Mobridge, SD in 1973. From 1980 to 1997, she trained catechists and lay leaders as a missionary in Guerrero, Mexico. When Sister Gabriella returned to Sioux Falls, SD in 1997, she began working with the poor and homeless at the Good Shepherd Ministry Center where she served as an assistant director until 2004. Sister Gabriella ministered at Caminando Juntos, the Presentation Sisters' sponsored Hispanic Ministry in Sioux Falls, SD, from 2004-2017.
1959-1964 - Holy Rosary Hospital, Miles City, MT - Dietitian
1964-1966 - (Avera) McKennan Hospital, Sioux Falls, SD - Dietitian
1966-1973 - Holy Rosary Hospital, Miles City, MT - Dietitian
1974-1980 – St. Joseph, Mobridge, SD - Parish Worker
1980-1997 - Ometepec, Guerrero, Mexico - Missionary
1997-2004 - Good Shepherd Center, Sioux Falls, SD - Receptionist, Interim Director and Assistant Director
2004-2016 - Caminando Juntos, Sioux Falls, SD - Hispanic Ministry Receptionist
2016-Present - Presentation Convent, Aberdeen, SD - retired