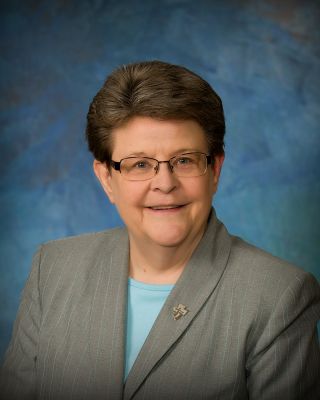 Birth Name: Janet
Current Name: Janet
Last Name: Horstman
Mother's Name: Lorraine (Bowar) Horstman
Father's Name: Bernard Hortsman
Hometown: Mitchell, SD
Education:
High School:
Notre Dame High School, Mitchell, SD
College:
1969 - Presentation College, Aberdeen, SD - Associate of Arts
1971 - St. Cloud State University, St. Cloud, MN - Bachelor of Science Degree in Social Science/Journalism
1983 - Loyola University, Chicago, IL - Master's Degree in Pastoral Studies
1991 - Mexican American Cultural Center, San Antonio, TX - Spanish Language studies and Preparation for Ministry in Latin American program
1996 - Mexican American Cultural Center, San Antonio, TX - Spanish Language studies and Hispanic Pastoral Program
2001 - Institute for Intercultural Communications, Portland, OR
Biography:
Sister Janet was educated by the Presentation Sisters in Mitchell, SD, and spent 19 years teaching at Catholic high schools in South Dakota and Nebraska. After language and cross-cultural studies, she spent two years ministering in Guerrero, Mexico. Prior to beginning her ministry in Sioux Falls, SD, Sister Janet served as director of outreach ministry at Our Lady of Guadalupe parish in Omaha, NE for nine years. She served on the Avera Queen of Peace Board in Mitchell, SD from 2002-2010. In South Dakota, Caminando Juntos is one of only two Department of Justice-Recognized non-profit organizations authorized to provide immigration legal services and Sister Janet is the only bilingual Department of Justice-Accredited Representative. Sister Janet also served on the board of Avera St. Benedict Health Center in Parkston, SD from 2010-2013, the Avera Health Board from 2013-2021, and the Avera eCare Board from 2018-2021.
1972-1976 - Roncalli High School, Aberdeen, SD - Social Studies, Journalism and Theology
1976-1979 - St. Mary's High School, Dell Rapids, SD - Theology and Journalism
1979-1987 - Roncalli High School, Aberdeen, SD - Theology, Campus Ministry and Religious Education Coordinator
1987-1991 - Daniel Gross High School, Omaha, NE - Theology
1988-1990 - Presentation Convent, Aberdeen, SD - Formation and Vocation Team Member
1992-1993 - Apartodo Postal Ometepec, Guerrero, Mexico -Missionary
1993-2002 - Our Lady of Guadalupe Parish, Omaha, NE - Outreach Ministry
2002-Present - Caminando Juntos, Sioux Falls, SD - Hispanic Ministry