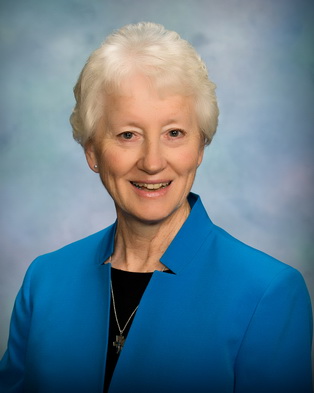 Birth Name: Janice Marie
Current Name: Janice
Last Name: Klein
Mother's Name: Mildred (Gebhart) Klein
Father's Name: Clarence Klein
Hometown: Dell Rapids, SD
Entry Date: January 25, 1967
Education:
High School:
St. Mary's School, Dell Rapids, SD
College:
1967 - Presentation College, Aberdeen, SD - Associate of Arts Degree
1971 - St. Benedict College, St. Joseph, MN - Bachelor of Arts Degree in Elementary Education
1979 - Loyola University, Chicago, IL - Masters in Pastoral Ministry
1991 - St. Mary of Lake Seminary, Mandelein, IL- Doctorate of Ministry
Biography:
Sister Janice was an elementary educator for eight years prior to serving as a pastoral minister for 14 years in the Chicago area. She worked in the Development Ministry from 1992 - 2014. Sister Janice is currently the Congregational President.
1971-1974 - Sacred Heart, Aberdeen, SD - Third and Fourth Grade
1974-1978 - Holy Family, Mitchell, SD - Fourth and Sixth Grade
1979-1982 - St. Genevieve, Chicago, IL - Adult Education
1982-1992 - St. Edna, Arlington Heights, IL - Pastoral Ministry
1992-2004 - Presentation Convent, Aberdeen, SD - Director of Development and Leadership Council
2006-2007 - Avera Mckennan, Sioux Falls, SD
2007-2014 - Presentation Sisters, Sioux Falls, SD - Director of Development
2014-Present - Presentation Convent, Aberdeen, SD - Congregational President