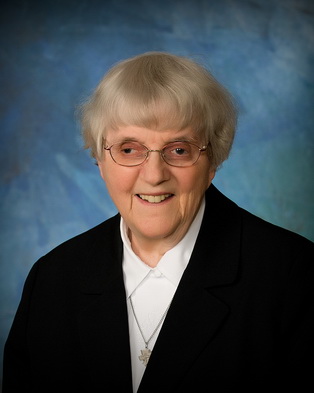 Birth Name: Elizabeth Mary
Current Name: Josita
Religious Name: Mary Josita
Last Name: Schwab
Mother's Name: Magdalena (Dauwen) Schwab
Father's Name: Joseph Schwab
Hometown: Andover, SD
Entry Date: September 8, 1949
Education:
College:
Presentation College, Aberdeen, SD - General Studies
Independence, IA - Clinical Pastoral Education
Catholic Hospital Association, St. Louis, MO - Dietary Administration
Biography:
Sister Josita (Elizabeth Mary) hadn't thought about becoming a Sister until third grade summer catechism. The calling resurfaced in her teen years with a desire to be a missionary. After prayer and discernment, she entered Presentation Convent, where her sister, Sister Barbara; her aunt, Sister Denise; and her godmother, Sister Ruth Steffes, were members.
Sister Josita has been surprised by how the road God called her to follow has turned so much. She ministered in dietary services in Huron and Mitchell, SD before returning to Aberdeen to supervise the Presentation College cafeteria where Sister became acquainted with students from all over the world. She still keeps in touch with some of them.
In 1978, Sister Josita was called to serve as a parish visitor in Huron, Jefferson and Elk Point, SD. She visited people in need at hospitals, nursing homes and the regional jail. After 18 years, Sister ministered as an advocate to poor families, immigrants and elderly residents at an apartment complex in Sioux Falls, SD. Once a week, Sister visited Berakhah House, Sioux Falls, SD, a home for persons who have AIDS/HIV, and joined them for meals.
As a member of St. Joseph Cathedral parish, Sister Josita was lector, Eucharistic minister, assisted with the RCIA program and was chairperson of the vocation committee. Sister continues to answer the call to serve those in need by volunteering at Presentation Convent, Avera St. Luke's Hospital and Avera Mother Joseph Manor and Retirement Community.
"A call from God is awesome," says Sister Josita. "I am so proud to be a Presentation Sister. I have been privileged to laugh with those who laugh, offer hope to those who have no hope, comfort the suffering and hold the hands of the dying. I found God in unexpected places. What a wonderful journey."
1952-1955 - St. Martin, Huron, SD - Food Service
1955-1957 - Notre Dame, Mitchell, SD - Food Service
1957-1961 - Presentation Junior College, Aberdeen, SD - Cafeteria Supervisor
1961-1962 – (Avera) Brady Memorial Home, Mitchell, SD - Food Service
1962-1963 - Milwaukee, WI - Food Service
1963-1977 - Presentation Junior College, Aberdeen, SD - Cafeteria Supervisor
1978-1988 - St. Martin and Resurrection, Huron, SD - Parish Worker
1988-1996 - St Peter and St. Joseph, Jefferson and Elk Point, SD - Parish Worker
1996-2005 - Northridge Apartments, Sioux Falls, SD - St. Joseph Catholic Housing Advocate
2005-2007 - West Creek Woods, Sioux Falls, SD - Advocate
2007-Present - Presentation Convent, Avera St. Luke's Hospital and Avera Mother Joseph Manor and Retirement Community , Aberdeen, SD - Volunteer