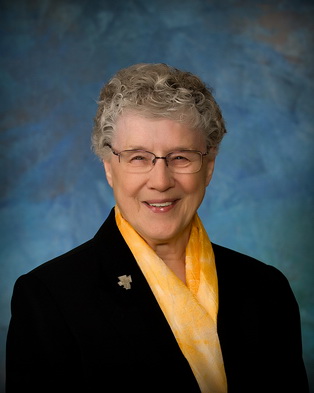 Birth Name: Rita Mary
Current Name: Lois Ann
Religious Name: Lois Ann
Last Name: Sargent
Mother's Name: Evelyn (Budde) Sargent
Father's Name: John Sargent
Hometown: Winner, SD
Entry Date: September 8, 1951
Education:
High School:
1950 - Notre Dame High School, Mitchell, SD
College:
1951 - Notre Dame Junior College, Mitchell, SD - Secretarial Science Certificate
1969 - Northern State College, Aberdeen, SD - Bachelor Science Degree in Secondary Business Education
1974 - Northern State College, Aberdeen, SD - Master of Science Degree in Elementary Education Administration
Biography:
Sister Lois Ann earned a certificate of secretarial science from Notre Dame Junior College and holds a bachelor's degree in business education and a master's degree in education administration from Northern State College.
For 36 years, Sister Lois Ann served in the education ministry as an elementary teacher and principal in Anoka, MN, Jefferson, Sioux Falls, Madison, Huron, Aberdeen and Dell Rapids, SD. Sister served in the Presentation Sisters Development Office for eight years, and in 1991 she became the congregation's archivist.
1954-1955 - St. Stephen, Anoka, MN - Fourth Grade
1955-1960 - St. Peter, Jefferson, SD - Second, Third and Fourth Grade
1960-1962 - St. Mary, Sioux Falls, SD - Fourth Grade
1962-1964 - St. Thomas, Madison, SD - Fourth and Eighth Grade
1964-1968 - St. Martin, Huron, SD - Fifth and Eighth Grade and Principal
1968-1969 - Sacred Heart, Aberdeen, SD - Eighth Grade
1969-1977 - St. Martin, Huron, SD - Second and Third Grade and Principal
1977-1979 - St. Thomas, Madison, SD - Principal
1979-1990 - St. Mary, Dell Rapids, SD - Principal
1991-2014 - Presentation Convent, Aberdeen, SD - Development Office and Archivist