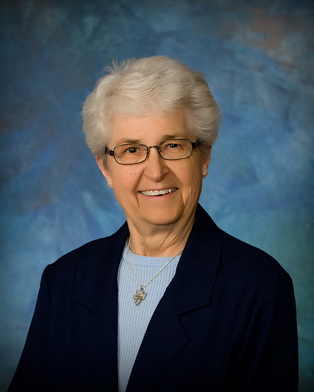 Birth Name: Mary Elizabeth
Current Name: Mary Elizabeth
Religious Name: Frances
Last Name: Jaeger
Mother's Name: Teresa (Temme) Jaeger
Father's Name: Anthony Jaeger
Hometown: Geddes, SD
Entry Date: January 6, 1961
Education:
High School:
Geddes High School, Geddes, SD
College:
1959 - Presentation School of Nursing, Sioux Falls, SD - Diploma, Registered Nurse
1961-1963 - Presentation College, Aberdeen, SD - Associate Nursing Degree in General Education
1965 - Marquette University, Milwaukee, WI - Bachelor of Science Degree in Nursing
1967 - Cornell University, New York Hospital - Certificate in Cardiac Nursing
1978-1980 - University of Wisconsin, Milwaukee, WI - Master of Science Degree in Nursing
1982 - Clinical Pastoral Education - 1 quarter at St. Joseph Hospital, Mitchell, SD now Avera Queen of Peace Hospital
Biography:
Sister Mary earned a nursing degree at Presentation School of Nursing and then ministered as a Registered Nurse for two years before entering the Presentation Community. During her 60-year health care ministry, Sister Mary served in staff nursing, nursing management, and teaching nursing at Presentation College in Aberdeen SD and University of Wisconsin in Milwaukee, WI. From 1980 to 1982 she served as the Founder/Coordinator of Prairie Hospice at St. Joseph Hospital, Mitchell, SD. She ministered with the South Dakota Department of Health as Director from 1982 – 1986. She served as vice president of Ambulatory Care with Presentation Health System for 10 years and Mission Services at (Avera) McKennan for 10 years and 6 years as Director of Mission at Avera St. Anthony's Hospital in O'Neill, NE. Upon returning to Sioux Falls in 2012, she continued to minister as an Avera System Member member of Avera Health Board and other Avera facility boards until 2017. She is currently serving as a member of the Avera Health Board and is also involved in Volunteer Ministry at Avera Heart Hospital and Avera McKennan Hospital in Sioux Falls, SD.
Sister achieved her ministry accomplishments by working with gifted people in communities and facilities as guided by God's spirit. "The call to the consecrated life is a journey of faith like any call, any vocation with ups and downs, joys and sorrows and always God's presence breaks through and love will see me/you/us through. It is a life-giving experience with lots to let go of at first and then as the years go by I see the gifts and graces of my life more clearly."
1959-1961 - Medical/Sugical Nursing McKennan & St. Joseph Hospitals
1965-1966 - (Avera) St. Luke's Hospital, Aberdeen, SD - Surgical Nurse
1966-1973 - (Avera) McKennan Hospital, Sioux Falls, SD - Head Nurse - CCU
1973-1978 - Presentation College, Aberdeen, SD - Nursing Instructor
1978-1980 - University of Wisconsin, Milwaukee, WI - Teaching Assistant
1980-1982 - St. Joseph Hospital (Avera Queen of Peace), Mitchell, SD - Hospice Coordinator
1982-1986 - South Dakota Department of Health, Pierre, SD Director of Community Health Nursing
1986-1996 - Presentation Health System, Sioux Falls, SD - Vice President Ambulatory Care Service
1996-2006 - (Avera) McKennan Hospital, Sioux Falls, SD - Vice President of Mission Services
2006-2012 - Avera St. Anthony, O'Neill, NE - Director of Mission Services
2006-2017 - Avera System Member; Avera Board of Directors; Avera Boards of Avera St. Anthony Hospital - O'Neil, NE, Avera Holy Family - Estherville, IA and Avera St. Mary - Pierre, SD
2017 - Present - Avera Health Board Member, Volunteer for Avera Heart Hospital & Avera McKennan Hospital