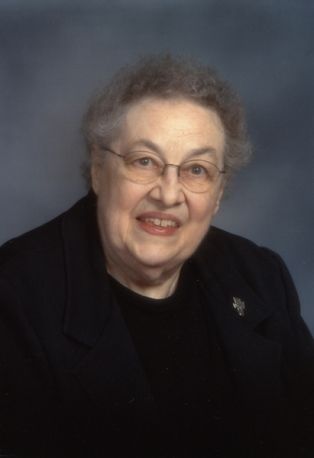 Birth Name: Bonnalyn
Current Name: Marie Joseph
Religious Name: Marie Joseph
Last Name: Schmitz
Mother's Name: Ellowene M. (Owen) Schmitz
Father's Name: Roy J. Schmitz
Hometown: Renner, SD
Entry Date: January 7, 1956
Current Status: Deceased
Death Date: June 7, 2016
Additional Info: View Sister Marie Joseph's Obituary
Education:
High School:
Cathedral High School, Sioux Falls, SD
College:
1955 - McKennan School of Nursing, Sioux Falls, SD - Nursing Degree
1958 - Presentation Junior College, Aberdeen, SD - Associate Nursing Degree
Biography:
Following nurse's training at Presentation Sisters' School of Nursing at McKennan Hospital, Sioux Falls, SD, Sister Marie Joseph worked as a staff nurse at (Avera) McKennan Hospital. She went on to earn an associate's degree in nursing from Presentation Junior College, Aberdeen, SD. During the next 40 years, Sister Marie Joseph served as a nurse, did private duty nursing and temporary clinic duty in healthcare facilities in Aberdeen and Mitchell, SD and Garretson, NH.
After retiring, Sister Marie Joseph dedicated her time to prayer and volunteer ministries at Presentation Convent, Aberdeen, SD. Sister says religious life was the "right path for me because it never went away." She also thanks God and her Presentation Sisters for her years of religious life. She is currently active in full time prayer ministry.
1955-1956 - (Avera) McKennan Hospital, Sioux Falls, SD - Staff Nurse
1958-1960 - (Avera) St. Luke's Hospital, Aberdeen, SD - Staff Nurse
1960-1965 - St. Joseph (Avera Queen of Peace), Mitchell, SD - Staff Nurse
1965 - (Avera) Mother Joseph Manor, Aberdeen, SD - Staff Nurse
1965-1979 - (Avera) St. Luke's Hospital, Aberdeen, SD - Staff Nurse
1982-1984 - Palisade Manor, Garretson, SD - Staff Nurse
1984-2001 - (Avera) Mother Joseph Manor, Aberdeen, SD - Restorative Therapy
2001-2016 - (Avera) Mother Joseph Manor, Aberdeen, SD - Full-time Prayer Ministry