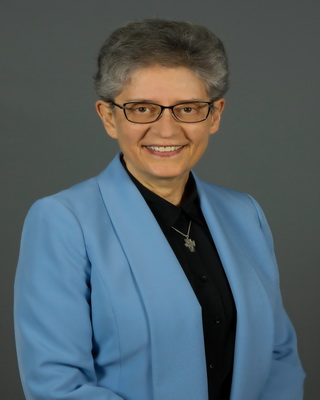 Birth Name: Mary
Current Name: Mary
Last Name: Thomas
Mother's Name: Jennie (Malsom) Thomas
Father's Name: Adam Thomas
Hometown: Bowdle, S.D.
Entry Date: September 2, 1978
Education:
High School:
Bowdle High School, Bowdle, S.D.
College:
1977 - Presentation College, Aberdeen, SD - Associate Degree in Social Work
1982 - Creighton University, Omaha, NE - Bachelor of Arts Degree in Theology and Sociology
1988 - Creighton University Omaha, NE - Master's Degree in Christian Spirituality
2006 - St. Catherine University, St. Paul, MN - Master of Science Degree in Organizational Leadership
Biography:
Sister Mary worked in campus ministry for ten years. The first five years were spent at Presentation College, Aberdeen, SD and the next five at St. Thomas Aquinas Newman Center Purdue University. For nine years, she served as the Vocation Director for the Presentation Sisters. She currently is the Senior Vice President of Mission Service at Avera McKennan Hospital.
1982-1984 - St. Joseph, Mobridge, SD - Youth and Native American Minister
1984-1989 - Presentation College, Aberdeen, SD - Campus Minister and Residence Hall Director
1989-1994 - St. Thomas Aquinas, West Lafayette, IN - Spiritual Life Director
1994-1995 - Presentation College, Aberdeen, SD – Researcher
1995-2004 - Presentation Heights, Aberdeen, SD - Grant Writer and Vocation Director
2006-2014 - Avera McKennan Hospital, Sioux Falls, SD - Senior Vice President of Mission Service
2014-2018 - Leadership Council
2014-Present - Avera McKennan Hospital, Sioux Falls, SD - Senior Vice President of Mission Service; Leadership Vice President