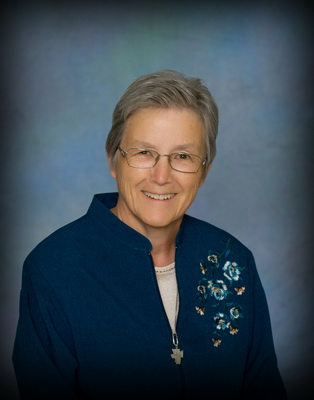 Birth Name: Myra
Current Name: Myra
Religious Name: Ann Frances
Last Name: Remily
Mother's Name: Anecetus (Morris) Remily
Father's Name: Orville Remily
Hometown: Brentford, SD
Entry Date: September 1, 1959
Education:
High School:
Brentford, SD
College:
1971 - St. Louis University, St. Louis, MO - Dietary Management
1982 - University of Steubenville, Steubenville, OH - Bachelor of Science Degree in Theology Cum Laude
Biography:
Sister Myra Remily served as a community house cook before becoming a supervisor at Marquette University and the food service director at Presentation College and Convent for seven years. Sister Myra graduated Cum Laude from the University of Steubenville, Steubenville, OH with a Theology Degree. She worked in parish ministries for seven years before being called to missionary work in Mexico and Bolivia for 15 years. She now assists Hispanic immigrants in the Aberdeen, SD area find work, good health care and housing.
1963-1965 - Loyola Hall, Milwaukee, WI - Housekeeper
1966-1968 - St. Stephen, Anoka, MN - Housekeeper
1968-1969 - St. Mary, Sioux Falls, SD - Housekeeper
1969-1971 - St. Mary, Willmar, MN - Teacher Aid and Housekeeper
1971-1972 - Shroeder Hall, Milwaukee, WI - Food Service Supervisor
1972-1979 - Presentation College, Aberdeen, SD - Food Service Director
1982 - (Avera) St. Luke's Hospital, Aberdeen, SD - Pastoral Care
1982-1987 - St. James, Chamberlain, SD - Parish Ministry
1987-1989 - St. Anthony, Linton, ND - Parish Ministry
1989-1997 - Guadeloupe Mission, Mexico, Missionary
1997-1998 - Presentation Convent, Aberdeen, SD – Convent Ministries
1998-2006 - Entre Rios, Bolivia - Missionary
2006-Present - Aberdeen Area Hispanic Outreach Ministry, Aberdeen, SD – Outreach Ministry Director