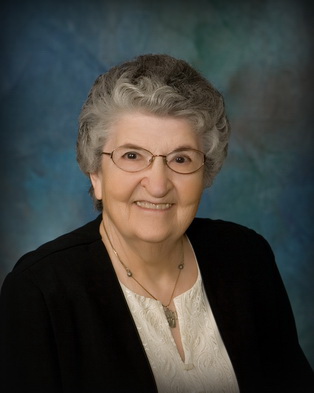 Birth Name: Marian Jeanette
Current Name: SaBina
Religious Name: Mary SaBina
Last Name: Joyce
Mother's Name: SaBina M (Knox) Joyce
Father's Name: Raymond Eugene Joyce
Hometown: Redfield & Tulare, SD and New Rockford, ND
Entry Date: September 8, 1944
Current Status: Deceased
Death Date: June 26, 2020
Additional Info: View Sister SaBina's Obituary
Education:
Grade School:
St. James Academy, New Rockford, ND
High School:
Sykes High School, Sykeston, ND
College:
1946 - Notre Dame Junior College, Mitchell, SD - Teacher's Certificate
1948 - Notre Dame Junior College, Mitchell, SD - Associate Teaching Degree
1962 - Northern State Teachers College, Aberdeen, SD - Bachelor of Science Degree in Education
1968 - Marquette University, Milwaukee, WI - Master of Arts Degree in English
1989 - Washington Theological University, Washington, DC - Mission Services/Pastoral Ministry Certificate
Biography:
Sister SaBina dedicated over 50 years of ministry to educating students in South Dakota, Minnesota and Montana. In addition, she spent several years at Presentation College teaching English, serving as chairperson for the English department and directing the Shalom Singers. Sister served her congregation as Mission Effectiveness Coordinator at Presentation College and (Avera) Mother Joseph Manor from 1989-1999, during which time she was also supervisor of pastoral care at (Avera) Mother Joseph Manor. She was a member of the Presentation College Board and served as secretary on the Avera St. Luke's Hospital Board. Sister retired from full-time ministry in 2000, but she continued to volunteer in the Presentation Sisters' ministry of hospitality and taught in the ESL program at Caminando Juntos in Sioux Falls, SD until 2010 when she moved to Presentation Convent and began full-time prayer ministry.
1946-1948 - Sacred Heart, Aberdeen, SD - Fifth and Eighth Grade
1948-1950 - St. Peter, Jefferson, SD - Sixth, Seventh and Eighth Grade
1950-1952 - Presentation Children's Home, Sioux Falls, SD - Sixth, Seventh and Eighth Grade
1952-1958 - St. Stephen, Anoka, MN - Sixth, Seventh and Eighth Grade
1958-1960 - St. Mary, Willmar, MN - Sixth and Seventh Grade
1962-1965 - Sacred Heart, Aberdeen, SD - Eighth Grade
1965-1967 - St. Mary, Dell Rapids, SD - Teacher
1967-1968 - Sacred Heart, Miles City, MT - Teacher
1969-1980 - Presentation College, Aberdeen, SD - Instructor
1980-1988 - Holy Family, Mitchell, SD - Teacher
1989-1996 - Presentation College, Aberdeen, SD - Mission Effectiveness Coordinator, English Instructor
1990-1998 - Mother Joseph Manor, Aberdeen, SD - Mission Effectiveness and Pastoral Care
1998-2010 - Avera McKennan Hospital, Sioux Falls, SD - Nagle Inn Hospitality Volunteer and Literacy Teacher
2010-Present - Presentation Convent, Aberdeen, SD - Full-time Prayer Ministry