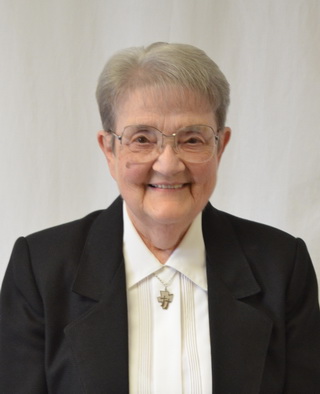 Birth Name: Aileen Loretta
Current Name: Vianney
Religious Name: Mary Vianney
Last Name: Mannie
Mother's Name: Ermena (Robinson) Mannie
Father's Name: Albert Mannie
Hometown: Turton & Watertown, SD
Entry Date: September 8, 1948
Education:
High School:
Watertown High School, Watertown, SD
College:
1951 - Presentation Junior College, Aberdeen, SD - Associate Teaching Degree
1967 - Northern State College, Aberdeen, SD - Bachelor of Science Degree in Elementary Education
Biography:
Sister Vianney earned a Bachelor's Degree in Education from Northern State College, and taught in elementary schools throughout the region for over 37 years. She then served as a Director of Religious Education before becoming Director of the Learning Resource Center and Assessment Coordinator at National American University, Sioux Falls, SD, where she currently ministers.
"God's call came strong and deep when I was at adoration in our parish church in Watertown. It seemed the right path because of the deep joy and peace that ensued with thoughts of being a sister," explains Sister.
1951-1952 - St. Theresa, Huron, SD - First Grade
1952-1953 - St. Joseph, Woonsocket, SD - First and Second Grade
1953-1956 - St. Mary, Sioux Falls, SD - First Grade
1956-1960 - St. Mary, Dell Rapids, SD - First and Second Grade
1960-1962 - Sacred Heart, Aberdeen, SD - First Grade
1964-1965 - St. Mary, Sioux Falls, SD - Third Grade
1964-1965 - Holy Spirit, Mitchell, SD - First Grade and Principal
1965-1968 - St. Stephen, Anoka, MN - Third and Fifth Grade
1968-1971 - St. Martin, Huron, SD - Third and Sixth Grade
1971-1972 - St. Peter, Jefferson, SD - Fifth and Sixth Grade
1972-1973 - Sacred Heart, Aberdeen, SD - Fifth Grade
1973-1975 - Sacred Heart, Miles City, MT - First Grade
1975-1976 - St. Stephen, Anoka, MN - Second Grade
1976-1982 - St. Lawrence, Milbank, SD - Second and Fourth Grade
1982-1984 - St. Anthony, Hoven, SD - Fourth Grade
1984-1988 - Immaculate Conception, Watertown, SD - Fourth Grade
1988-1996 - St. Mary, Sioux Falls, SD - Religious Education
1996-Present - National American University, Sioux Falls, SD - Resource Center and Assessment Coordinator