The Presentation
Sisters are pleased to once again partner with Life 96.5 and HyVee in Sioux Falls to provide gloves, mittens, hats and scarves to the people served at Caminando Juntos.
Caminando Juntos is Spanish for "walking together", and is also the name of the Presentation Sisters' ministry among the Hispanic people in the Sioux Falls area. Their primary purpose is to help create a welcoming presence and respond to the needs of the newer Latino immigrants as they seek to integrate into this culture and make a home among us.
It has been found that many of the Hispanic people, who relocate to Sioux Falls, are not prepared for the harshness of the winter climate. They do not have warm gloves, mittens, hats or scarves to wear. Throughout the entire month of January, we are working together to help provide cold weather accessories for the men, women and children who visit the ministry center for assistance.
If you would like to help, bring brand new warm gloves, mittens, hats or scarves in sizes for men, women, boys, girls, or infants to:
HyVee #1 – 1601 S. Sycamore Ave
HyVee #2 – 4101 S. Louise Ave
HyVee #3 – 3000 S. Minnesota Ave
HyVee #4 – 1900 S. Marion Road
HyVee #5 – 3020 East 10th Street
HyVee #6 – 1231 E. 57th Street
HyVee #7 – 2700 W. 10th Street
For additional information or to get involved, please contact the development office at 605.271.0468 or jrothenbuehler@presentationsisters.org.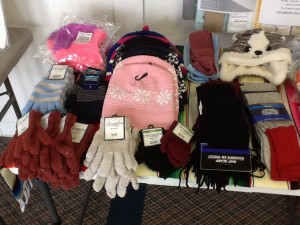 KSFY TV Interview
Sister Pegge and Jen Rothenbuehler were guests on the KSFY morning show to help promote the Warm a Neighbor project, which is a partnership with Life 96.5 and Hy-Vee. They shared information on the Sisters and details of the project! The Warm a Neighbor collection boxes are at all 7 Hy-Vee locations in Sioux Falls the month of January. Many Cojourners have also volunteered to help monitor the donation boxes during the month! Thursday, January 7, 2016, Sister Pegge and Sister Gabriella will be interviewed by Life 96.5 radio talking about Caminando Juntos and the Warm a Neighbor project.
View the KSFY interview HERE
96.5 Radio Interview
The Presentation Sisters and Life 96.5 radio are partnering again with the Warm A Neighbor project. Listen to the live interview with Sister Pegge, Sister Gabriella and Jen Rothenbuehler as they share great information on how to donate hats, mittens and scarves to those in need during these cold winter months. Click play to listen to the interview.
[/one_third_last]