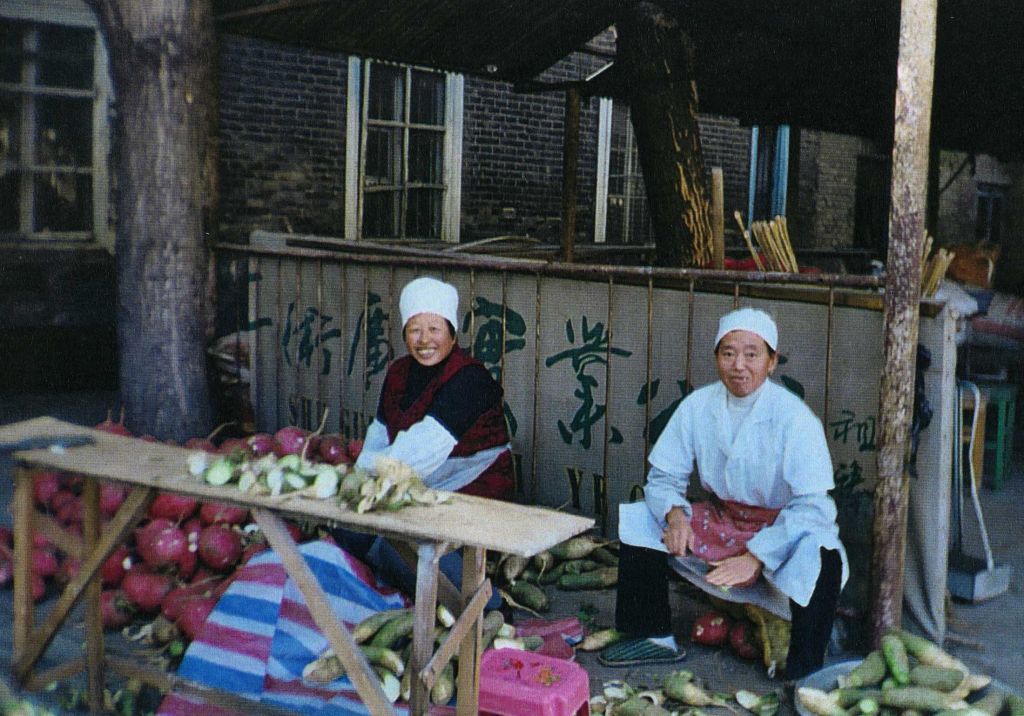 Sacred Heart of Mary sisters prepare food in front of their convent. This photo was taken by Sr. Joyce Meyer during a 2003 trip to China when she was executive director of the Conrad N. Hilton Fund for Sisters. (Courtesy of Joyce Meyer.)
A webinar on female religious life China that I attended several months ago continues to fascinate me. The session was sponsored by the International Scholars of the History of Women Religious Association (ISHWRA) at Durham University, England. I've long been interested in women religious in China and wanted to share some of what I learned about women who are not often heard from in our Western part of the world.
Michel Chambon, a French theologian and cultural anthropologist at the Asia Research Institute at the National University of Singapore, where he studies Christianity in the Chinese world, spoke to us on the evolution of female religious life in China. I was able to obtain his original 2019 article "Chinese Catholic Nuns and the Organization of Religious Life in Contemporary China" from the anthropology department of Hanover College in Indiana. It helped fill in the short presentation he made in the hourlong webinar and discussion. I found Chambon's reflections intriguing, challenging and inspiring.
My personal introduction to sisters in China was in 2003 when I visited as executive director of the Conrad N. Hilton Fund for Sisters. At that time, my attention had been on their ministries and I had not given much thought to the development of religious life in China as a whole. However, through our conversations I was inspired by the resilience women religious in China showed in facing the challenges from the 1980s when sisters who had been dispersed in the 1966-76 Cultural Revolution were allowed to come out of the shadows. In private conversations, the sisters shared with me some of their painful navigation of generational issues and different ways of viewing religious life. However, they were not deterred from moving forward, in spite of both internal and external challenges of finance, to re-establish their congregations.
Chambon began his presentation by noting that Catholic nuns who make up female religious life in China first appeared in the 1600s via male Spanish and French missionaries. This timing was similar to that of Catholic female religious life in Vietnam, initiated in that same era. He cited 2015 surveys estimating that about 4,570 women religious lived in the People's Republic of China at that time, some belonging to the nationally registered or official Catholic Church and others to what has been called the underground Catholic Church.
According to Chambon, the first women religious in China were consecrated virgins or "beatas" in the 1600s. These women made private vows, lived with their parents and assisted the priests with religious education, baptizing when the priest was absent and leading parish prayer life. They reminded me of Angela Merici, the Italian foundress of the Ursulines in 1535. She and her sisters lived similarly to Chinese beatas and had no required conventual life or uniforms, nor were they referred to as "Sister." These women were an anomaly in a culture with few Catholics and where women were expected to marry and be mothers.