Memorial Service for Sister Teresita Schaefbauer
Sister Teresita Schaefbauer, 87, a Sister of the Presentation of the Blessed Virgin Mary, died Sunday, May 22, 2022 at Avera Mother Joseph, Aberdeen, SD.
Mass of Christian Burial will be held 1:30 p.m. Friday, May 27, 2022 in the Blessed Sacrament Chapel at Presentation Convent, 1500 N 2nd St, Aberdeen, SD. Reverend Joseph Sheehan and Reverend Robert Vinslauski will be celebrant and homilist. Liturgical Wake service is Friday, May 27, at 11:00 a.m. in the Presentation Place Chapel, 405 9th Ave NE. Internment at Sacred Heart Catholic Cemetery. Spitzer-Miller Funeral Home, 1111 S Main Street, is in charge of arrangements. The services will be live streamed at www.spitzerfuneralhome.com.
Shirley Ann Schaefbauer was born April 5, 1935 in Herreid, SD to Susie (Weisbeck) Schaefbauer and Frank Schaefbauer and graduated from Herreid High School. She entered Presentation Convent January 1, 1955 and professed her vows August 10, 1957 receiving her religious name of Sister Teresita.
Sister Teresita received an Associate Secretarial Degree from Presentation College in 1958 and a Bachelor of Science in Education from Northern State University in 1971. She attended the College of St. Thomas, St. Paul, MN in Pastoral Studies.
For five years she shared her beautiful spirit working as a bookkeeper at Brady Memorial and Presentation Hospitals in Mitchell, SD and Aberdeen, SD. She was also a Librarian at St. Mary's, Dell Rapids, SD and Sacred Heart, Miles City, MT. The next nine years, Sister Teresita dedicated herself to teaching at St. Mary's, Sacred Heart and Roncalli in Aberdeen, SD.
In 1980, she began 16 years of parish ministry, with St. Joseph Parish, Mobridge, SD, and then St. Thomas Parish and Dakota State University Newman Center, Madison, SD, witnessing and sharing the love of Christ with all she met. After returning to Presentation Convent in Aberdeen, she enjoyed volunteering at Avera St. Luke's.
Sister Teresita said she was blessed knowing God called her to be a Presentation Sister and serving in her ministries allowed her to focus all her efforts on helping others. She also loved reading, taking walks and embroidering.
Sister Teresita is survived by her community family of Presentation Sisters; brother Frank (Sara) Schaefbauer and many nieces and nephews.
She is preceded in death by her parents; sisters Eileen Dais, Doris Lacher, and Roberta Goehring Liebelt and brother Duane Schaefbauer.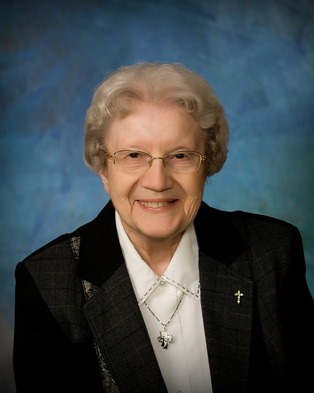 Scriptural Wake Service
Presentation Place
405 9th Ave NE, Aberdeen SD
Friday, May 27, 2022
11:00 AM
Memorial Mass
Blessed Sacrament Chapel
1500 N 2nd St, Aberdeen SD
Friday, May 27, 2022
1:30 PM
The Memorial Mass will be livestreamed at www.spitzerfuneralhome.com.
(Please note: Livestream link begins shortly before service begins.)