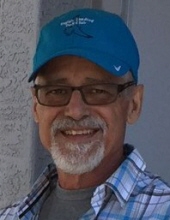 The Sisters and Presentation Convent employees remember and celebrate the life of long-time employee Steve Sommers. Steve was a part of the Presentation family for 37 years and formed many friendships with the Sisters and his co-workers. Steve's presence will be greatly missed at Presentation Convent. Blessings to all of Steve's family.
Steven Edward "Sam" Sommers, 60, of Aberdeen, passed on to his new life on August 20, 2017, at his home. An informal prayer service will be held at 2:00pm, Saturday, August 26, in the Blessed Sacrament Chapel at Presentation Convent, 1500 N Second St., Aberdeen. Family will be present from 1:00-2:00pm. Bring your best "Steve" stories and feel comfortable to wear jeans and your favorite T shirt, because that's the way Steve would want it.
Steve was born on March 7, 1957, to Stanley and Inez (Anderson) Sommers in Aberdeen, SD. He attended Henry Neil Elementary, Simmons Junior High and graduated from Aberdeen Central in 1975. Steve was also a founding member of the Boys Club, which is now the Boys and Girls Club. 
Steve started working for the Presentation Sisters in 1979, and worked there until his pancreatic cancer diagnoses in 2016. He was very proud of the work that he had accomplished there and the lifelong friendships that came from his career. The sisters and staff were a very important part of his life, they were family to him.
Steve married the love of his life, Rhonda Ford on December 20, 1993, (the day after hunting season closed). They had two beautiful girls together, Kaitlyn Inez, 20, and Jessica Lynn, 18. 
Steve loved life and his family and friends. He was always there to help whenever anyone needed a hand. His passions outside of his family and work were baseball, music, Ford cars, golf and hunting. Steve loved the fact that he was a catcher in baseball: he said that's where all the tough guys played. He even bragged he could catch one pitcher barehanded. 
Preceding Steve to the next life were his parents, Stanley and Inez Sommers, brother, Don Sommers, nephew, Michael Melius, and good friend, Dave "Sydo" Syhre.
Celebrating his life are his wife, Rhonda Sommers, daughters: Kaitlyn and Jessica; brothers: Bill (Becky) Sommers, Bismarck ND, Mike (Shirley) Sommers, Aberdeen, Stanley (Cheryl) Sommers, Aberdeen; sisters: Donna Goldade, Palm Harbor, FL, Faye (Leroy) Hottman, Aberdeen, and Sue (Ken) Melius, Sioux Falls; father and mother-in-law Willie and Bev Wolff, Aberdeen, and several nieces and nephews. 
Steve and his family would like to thank Dr. Conklin, Chris, and staff along with his hospice staff, Jody, Val, and Rachel who all helped and cared for Steve and his family on this journey. 
In Steve's final days he said, don't cry for me, live life, I will be ok. We will because we have the best example on how to live life. Steve paved the way with his kindness, sense of humor and love for us all.
To leave a message on his tribute wall at Spitzer Funeral Home, please click here.