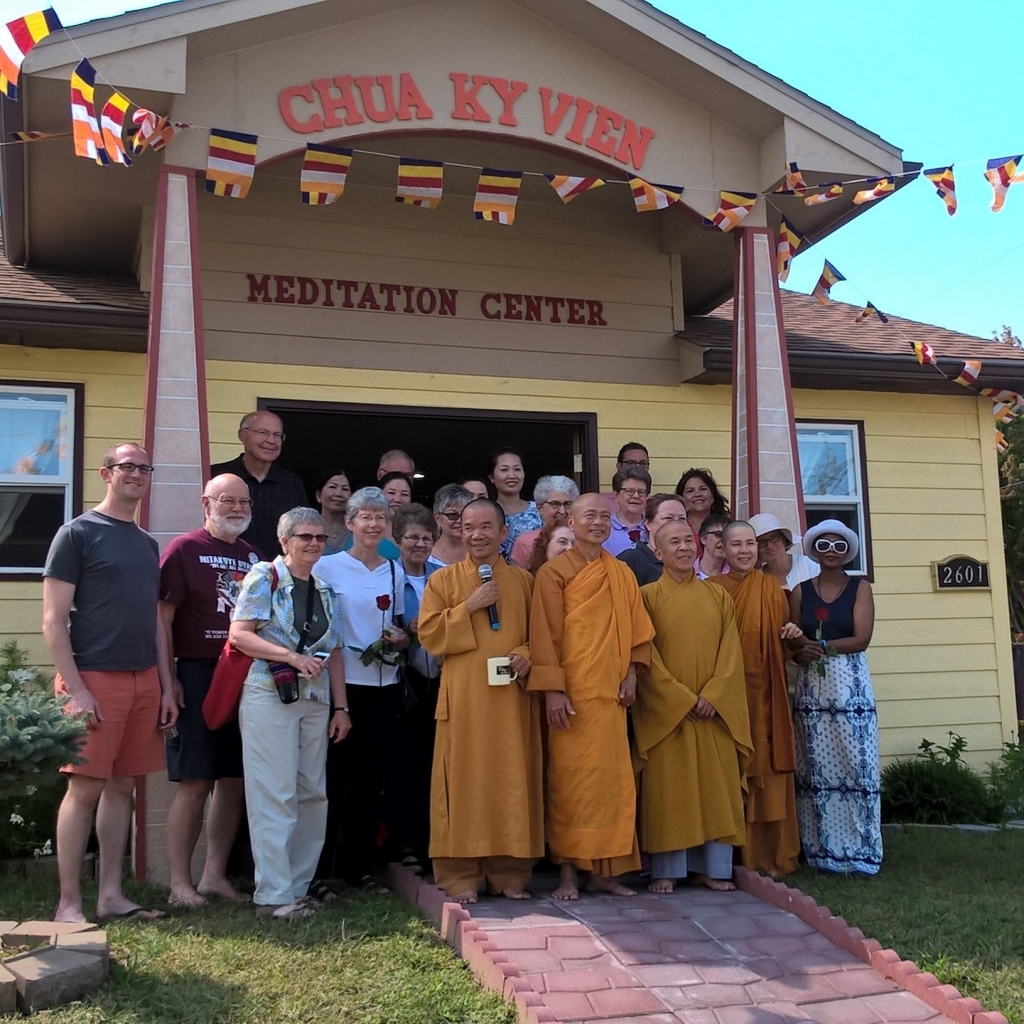 The Fourth Prayer Bus Tour, sponsored by Pax Christi South Dakota and the Multi-Cultural Center of Sioux Falls (MCC), was held on Sunday, August 20, 2017.  About 25 people boarded the purple bus provided by MCC at 1:30 PM and headed to the Wonderful Garden Buddhist Meditation Center on Marion Road in Sioux Falls.  "This is one small way to witness our solidarity with our Vietnamese brothers and sisters, their faith traditions and welcome them into our hearts," shared Josh Grode-Wolters, chairperson for the local Pax Christi South Dakota Chapter.
As the bus entered their parking lot, the Vietnamese women arrayed in colorful dresses, scurried to the entrance of the Buddhist Center.  Lining the entrance, they welcomed us with their wide smiles and clapping.  "Who welcomed who?  We wanted them to know that we welcomed them, and they humbled us with their beautiful acceptance of us into their faith home," reflected Sr. Pegge Boehm, a one of the organizers. 
Buddhists from South Dakota, Minnesota and North Dakota gathered that Sunday to celebrate Parents' Day.  They seated us at beautifully decorated tables, lined with Vietnamese delicacies.  Each of the Buddhist women gave a fresh rose to each of the women visitors.  There was time to ask questions and find common ground.  For example, we all read the Vow of Non-Violence together.  They had two Buddhist nuns present and we had four Catholic nuns present.  There was discussion around the similarities and differences that women share in that role.  The monks chanted a prayer for us and then we took pictures together.  Their faith community was celebrating Parents Day with Buddhists from Minnesota and North Dakota.