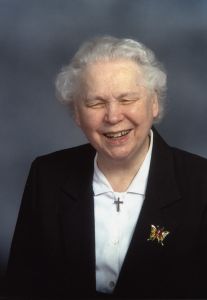 Services for our Dearly Beloved
Sister Helen Ripplinger
Born to Life – September 27, 1926
Born to Eternal Life – July 17, 2019
GREETING the BODY          4:00 PM – Friday, July 19, 2019
SCRIPTUAL WAKE SERVICE          6:00 PM – Friday, July 19, 2019
Blessed Sacrament Chapel, Presentation Convent
 RESURRECTION LITURGY               10:30 AM – Saturday, July 20, 2019
Blessed Sacrament Chapel, Presentation Convent
Presider: Rev. David Janes
Internment at Sacred Heart Cemetery
HONORARY CASKET BEARERS
Sister Josita Schwab, Sister Eileen Ford, Sister Armella Stratman, Sister Annrita Johnson,  Sister Jean Huntimer, Sister Suzanne Cotter,
Sister Mary Lou Geraets, Sister Marilyn Dunn
Learn More about Sister Helen Ripplinger
Sister Helen Ripplinger, 92, a Sister of the Presentation of the Blessed Virgin Mary, died July 17, 2019 at Avera Mother Joseph Manor, Aberdeen, SD.
Mass of Christian Burial will be held at 10:30 a.m. Saturday, July 20, 2019 in Blessed Sacrament Chapel at Presentation Convent, Aberdeen, SD. Reverend David Janes will be celebrant and homilist. Liturgical Wake service will be Friday, July 19, 2019 at 6:00 p.m. in the Chapel with visitation beginning at 4 p.m.  Interment at Sacred Heart Catholic Cemetery. Spitzer-Miller Funeral Home, 1111 S Main Street, is in charge of arrangements.
Helen Ripplinger was born September 27, 1926 in Trail City, SD to Magdelina (Meier) and Joseph Ripplinger.  Helen graduated from the South Dakota School of the Blind in 1945. She attended Norther State College, Presentation College and later Lighthouse School for the Blind in Chicago. She entered Presentation Convent September 8, 1949 and made her profession of vows on August 10, 1952, receiving her religious name of Sister Jacinta.
Sister Helen ministered at (Avera) St. Luke's Hospital from 1952 to 1996 in many positions including Receptionist, Medical Transcriptionist and TelMed Clerk. She is remembered for singing in the choir, cantoring and lecturing at Sacred Heart Parish.  Sister played piano during special times and sing-a-longs at Mother Joseph Manor and Roncalli High School. Sister Helen said her music was her way of giving back and it was rewarding to be of service to others.  She received great joy from the people she worked with and loved crocheting, reading and listening to tapes.
She is survived by her community family of Presentation Sisters; 3 sisters Julie Lynch, Mary Weber, Rose Ann Belcher and many nieces and nephews.
She is preceded in death by her parents; 4 brothers Peter, Joachim, Edward, LeRoy and 1 sister Frances Birchard.
The Knights of Columbus will serve as active casket bearers.