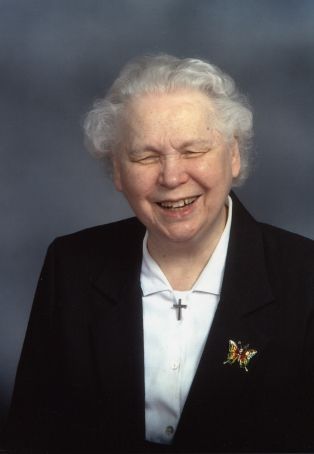 Birth Name: Helen
Current Name: Helen
Religious Name: Mary Jacinta
Last Name: Ripplinger
Mother's Name: Magdalena (Meier) Ripplinger
Father's Name: Joseph Ripplinger
Hometown: Trail City, SD
Entry Date: September 8, 1949
Current Status: Deceased
Death Date: July 17, 2019
Additional Info: View Sister Helen's Obituary
Education:
High School:
South Dakota School for the Blind, Gary, SD
College:
1947 - Northern State Teachers College, Aberdeen, SD -
Presentation College, Aberdeen, SD
1970 - Lighthouse School for the Blind, Chicago, IL - Medical Record Transcription Degree
Biography:
Although legally blind, Sister Helen served as receptionist for the Presentation School of Nursing, Aberdeen, SD for over 17 years. In 1969, she received training in medical records transcription at the Lighthouse School for the Blind in Chicago, IL. Sister worked in (Avera) St. Luke's Hospital medical records department until 1983, when she began volunteering at (Avera) St. Luke's and (Avera) Mother Joseph Manor. She was an active choir member and cantor at Sacred Heart Parish and played the piano for residents at the Manor. In 2008, she transcribed Spanish song lyrics into Braille to be able to celebrate Mass with the Latino community. Sister is currently serving in full-time prayer ministry at Avera Mother Joseph Manor.
With her trademark smile, Sister Helen says, "I figure if I can't do some things, there are some things I can do. I've always felt that first of all you need a sense of humor."
1952-1969 - Lourde's Hall, Aberdeen, SD - Receptionist
1970-1983 - (Avera) St. Luke's Hospital, Aberdeen, SD - Medical Transcriptionist
1983-1985 - (Avera) Mother Joseph Manor, Aberdeen, SD - Music
1985-1996 - (Avera) St. Luke's Hospital, Aberdeen, SD - Tel Med Clerk
1996-1998 - Lourd's Hall, Aberdeen, SD - Volunteer & Prayer
1998-2005 - Sacred Heart Parish, Aberdeen, SD - Choir, Cantor, Lector
2000-2007 - Avera Mother Joseph Manor, Aberdeen, SD - Music Ministry and Volunteer
2007-2019 - Avera Mother Joseph Manor, Aberdeen, SD - Full-Time Prayer Ministry