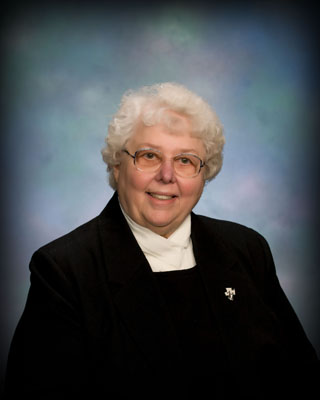 Services for our Dearly Beloved
Sister Madonna Pierret
Born to Life – December 22, 1932
Profession – August 10, 1954
Born to Eternal Life – July 8, 2018
GREETING the BODY: 4:00 PM – Friday, July 13, 2018
SCRIPTURAL WAKE SERVICE: 6:30 PM – Friday, July 13, 2018, Blessed Sacrament Chapel, Presentation Convent
FUNERAL LITURGY: 11:00 AM – Saturday, July 14, 2018, Blessed Sacrament Chapel, Presentation Convent
PRESIDER: Rev. David Janes
Sister Madonna Pierret, 85, a Sister of the Presentation of the Blessed Virgin Mary, died Sunday, July 08, 2018 at Mother Joseph Manor, Aberdeen, SD.
The Mass of Resurrection for Sister Madonna, will be Saturday, July 14, 2018 at 11:00 a.m. in the Blessed Sacrament Chapel at Presentation Convent, Aberdeen, SD. Reverend David Janes will be celebrant and homilist.
The Liturgical Wake service will be Friday, July 13, 2018 at 6:30 p.m., Blessed Sacrament Chapel. Visitation will begin at 4 p.m. Spitzer-Miller Funeral Home, 1111 S Main Street, is in charge of arrangements. Inurnment at Sacred Heart Catholic Cemetery at a later date.
Madonna Pierret was born December 22, 1932 in Sherman, SD to Martha (Dubbelde) and Leo Pierret. She graduated from Garretson Public High School in 1951. Madonna entered Presentation Convent in 1951 and professed her vows August 10, 1954. She received her BS in Math Education, Northern State College in 1969 and her MA in Math Education, University of California in 1973.
Sister Madonna taught grades 3-5 and later High School Math and Computer Science in Humboldt, Dell Rapids, Miles City, MT and Anoka, MN from 1954 to 1997. She also ministered in various positions at Presentation Convent, St. Luke's Hospital, Aberdeen and Presentation Children's Home, Sioux Falls. Sister Madonna moved to the Presentation Convent in 1997 and devoted much of her time to her passion for social justice issues. She loved working on computers and keeping up with ever changing software. Sister Madonna is known for her story telling ability and practicality. She loved to sew and was a great cook.
Sister Madonna is survived by her community family of Presentation Sisters; one sister, Marlene (Don) Fiegen, LaCresent MN; one brother Donald (Linda) Garretson SD; nephews, nieces, and many cousins.
She is preceded in death by her parents and 2 brothers: Arnold (Jeannie) and Kenneth (Mary Ellen).