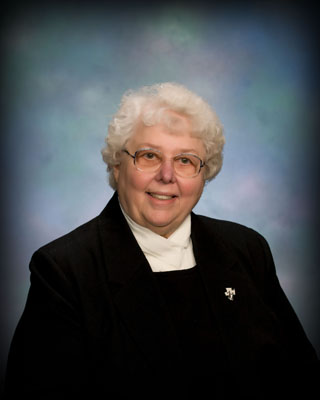 Birth Name: Madonna
Current Name: Madonna
Religious Name: Mary Mona
Last Name: Pierret
Mother's Name: Martha (Dubbelde) Pierret
Father's Name: Leo Pierret
Hometown: Garretson, SD
Entry Date: September 8, 1951
Current Status: Deceased
Death Date: July 8, 2018
Additional Info: View Sister Madonna's Obituary
Education:
High School:
Garretson High School
College:
1954 - Presentation Junior College, Aberdeen, SD - Associate Teaching Degree
1969 - Northern State College, Aberdeen, SD - Bachelor of Science Degree in Math Education
1973 - University of California, - Master of Arts Degree in Math Education
Biography:
Sister Madonna holds bachelor's degree and master's degrees in math education from Northern State University and the University of California.
Sister taught elementary classes, math and computers in Humbolt, SD, Dell Rapids, SD, Anoka, MN and Miles City, MT for nearly thirty years. Sister Madonna left her imprint on this earth through her students who have gone on to worked in Washington DC, or as computer programmers for major corporations, or in offices around the country, or as teachers themselves. Since she returned to Presentation Convent in 1997, Sister Madonna has put her computer skills to use helping other sisters as well as maintaining the sisters' ministry files.
1954-1956 - St. Stephen, Anoka, MN - Third and Fourth Grade
1956-1957 - St. Ann, Humboldt, SD - Third and Fourth Grade
1957-1958 - St. Mary, Dell Rapids, SD - Fourth and Fifth Grade
1960 - Notre Dame, Mitchell, SD - Assistant Cook
1960-1964 - Presentation Convent, Aberdeen, SD - Housekeeper
1964-1965 - Presentation Children's Home, Sioux Falls, SD - Cook & Play Room Supervisor
1965-1969 - (Avera) St. Luke's Hospital – Aberdeen, SD - Cafeteria and Seamstress
1969-1976 - Sacred Heart High School, Miles City, MT - Math Teacher and Scheduler
1976-1997 - St. Mary, Dell Rapids, SD - Math and Computer Teacher and Scheduler
1977-1997 - St. Rose of Lima, Garretson, SD - CCD Summer School
1997-2018 - Presentation Convent, Aberdeen, SD - Office Assistant, Typist, Social Justice Committee, Prayer Line Coordinator and Full-time Prayer Ministry