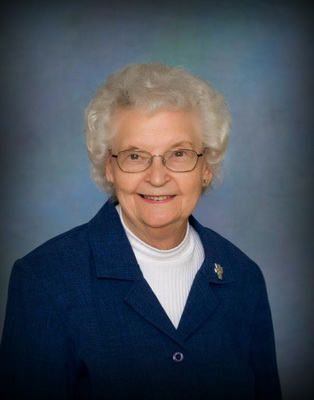 Services for our Dearly Beloved
Sister Mary Jane Gaspar
Born to Life – July 24, 1928
Born to Eternal Life – September 23, 2019
GREETING the BODY          4:00 PM – Thursday September 26, 2019
Rosary led by Sister Josita
SCRIPTURAL WAKE SERVICE          6:00 PM – Thursday September 26, 2019
Blessed Sacrament Chapel, Presentation Convent
RESURRECTION LITURGY               11 AM – Friday, September 27, 2019
Blessed Sacrament Chapel, Presentation Convent
Presider: Rev. Joseph Sheehan
Homilist: Rev. David Krogman
Internment at Sacred Heart Cemetery
HONORARY CASKET BEARERS
Sister Michelle Meyers  ~  Sister Suzanne Cotter  ~ Sister Helen Jean Washtoak  ~  Sister Vianney Mannie  ~  Sister Mary Lou Geraets  ~  Sister Jean Huntimer  ~  Sister Elaine Goodell  ~  Sister Armella Stratman  ~  Sister Patrick Leonard Murphy
CASKET BEARERS – Nephews of Sister Mary Jane          
Sister Mary Jane Gaspar, 91, a Sister of the Presentation of the Blessed Virgin Mary, died September 23, 2019 at Presentation Convent, Aberdeen, SD.
Mass of Christian Burial will be held at 11:00 a.m. Friday, September 27, 2019 in the Blessed Sacrament Chapel at Presentation Convent, Aberdeen, SD. Reverend Joseph Sheehan will be celebrant and Reverend David Krogman will be homilist. Liturgical Wake service will be Thursday, September 26 at 6:00 p.m. in the Presentation Chapel with visitation beginning at 4 p.m.  Interment at Sacred Heart Catholic Cemetery. Spitzer-Miller Funeral Home, 1111 S Main Street, is in charge of arrangements.
Cecilia Gaspar was born July 24, 1928 in Orient, SD, to John William and Veronica (Hardes) Gaspar.  Cecilia graduated from Fairview High School, (Polo) Orient in 1946.  She entered Presentation Convent September 8, 1948 and professed her vows on August 11, 1954, receiving her religious name of Sister Mary Jane.
Sister Mary Jane earned a bachelor's in Education from Northern State University in 1964, a master's in Education from St. Louis University, St. Louis, MO in 1969 and a master's in Christian Spirituality from Creighton University, Omaha, NE in 1988.
Sister Mary Jane's dedication to education spanned almost 40 years as she taught in Anoka, MN and several schools throughout SD, serving as principal at St. Mary's School, Sioux Falls, Holy Family School, Mitchell, and St. Ann's in Omaha, NE. She ministered as Formation Director and was elected to serve on the Leadership Council for the congregation. She accompanied others through her work in pastoral ministry and Director of Religious Education at Holy Spirit and Christ the King parishes in Sioux Falls. She continued sharing her gifts with others as the hostess at the Presentation Sisters' Marian House in Sioux Falls, and serving on boards and committees prior to full retirement in prayer ministry at Presentation Convent. Sister Mary Jane enjoyed traveling, crafts, walking, reading and puzzles. She expressed that she was compelled to live a mission of helping where she was needed and to be there for the children she taught and their parents.
She is survived by her community family of Presentation Sisters; her sister Dorothy Bernard, brother Vince (Darlene) Gaspar and many nieces and nephews.
She is preceded in death by her parents and 2 sisters Sister Janette Gaspar PBVM and Irene Bode. Her nephews will serve as casket bearers.
Memorial donations may be given to the Ministries of the Presentation Sisters.