ACWECA's 2021 assembly shows the perseverance and strength of African sisters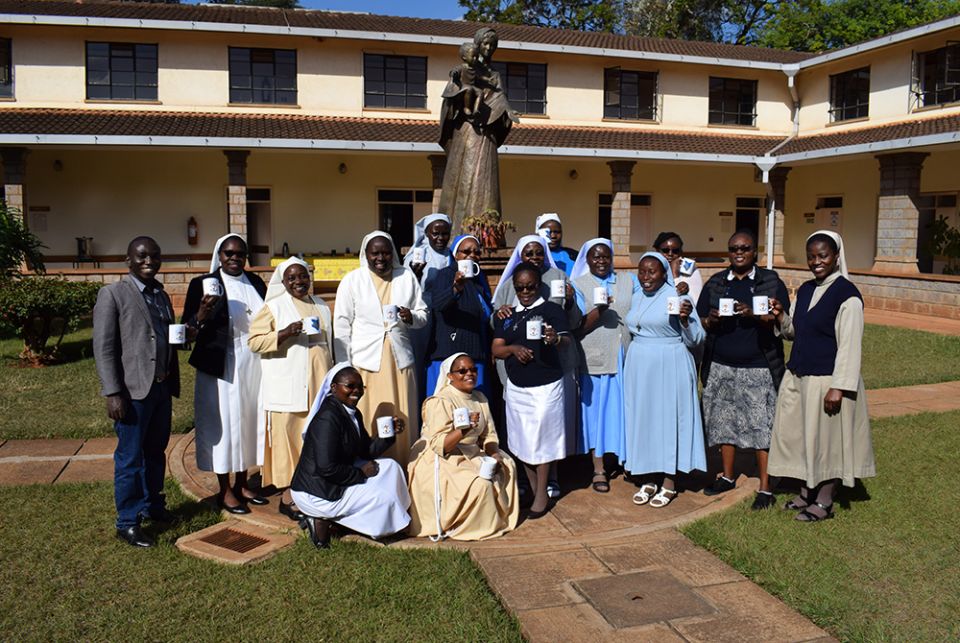 The planning committee for the Aug. 23-26 assembly for the Association of Consecrated Women of East and Central Africa, or ACWECA, pose for a photo ahead of the 2021 assembly. (Courtesy of ACWECA)
I recently participated in a miracle: the 18th assembly of the Association of Consecrated Women in Eastern and Central Africa, or ACWECA.
Why do I say "miracle"? This extraordinary association of women religious conferences from 10 countries with hundreds of different cultures and languages and a variety of national political systems has persisted in its purpose for nearly 50 years. The members represent 280 religious institutes of about 35,000 sisters with 41 general superiors.
It has taken women of determined prophetic courage, grit and faith to keep this association thriving in supporting sisters to live a vibrant religious life through programs of spiritual and human formation, education in leadership and religious life, and a forum for sharing the struggles that evolving organizations experience.
This was clearly expressed to me in an email from Sr. Prisca Matenga of the Daughters of the Redeemer, former chair of ACWECA and official assembly observer:
"Tribe, culture, language, limited resources was never a barrier, but rather, the spirit of the Lord was food for our quest of togetherness, hence ACWECA has grown from strength to strength. As women religious in the region, the Sisters are aware that 'Consecrated life is the very heart of the Church, a decisive element for her mission' and in coming together there is deep sharing of our very existence. There is sharing of joy, pain, and challenges we meet as religious, and empowering the Sisters."
I encountered the first iteration of ACWECA in Zambia when I worked as the secretary for the Zambia Association of Sisterhoods when that conference hosted an assembly for the association in 1981. It was then called the Sisters of East Africa Study Conference, initiated in 1974 by the regional conference of bishops, the Association of Member Episcopal Conferences in Eastern Africa. These bishops were founding new local congregations after the Second Vatican Council and saw the need for the young women entering, many with little academic education or knowledge about religious life, to learn together.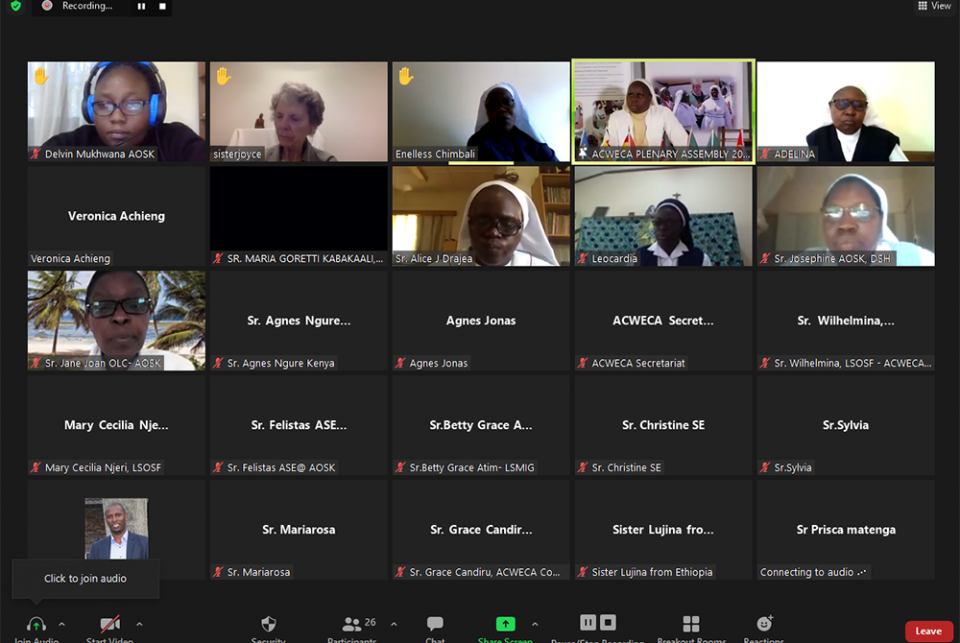 More than 175 women participated in the Aug. 23-26 assembly for the Association of Consecrated Women of East and Central Africa, or ACWECA (Courtesy of ACWECA.
"We did not have the internal capacities and skills" to manage this new life, and "we needed a united voice that could be heard as we raised our issues," said Sr. Agnes Wamuyu Ngure, a Franciscan Sister of St. Elizabeth, official ACWECA observer and former secretary for the Association of Sisterhoods of Kenya.
ACWECA is now the oldest enduring regional group of women religious on the African continent. It currently encompasses 10 countries: Kenya, Tanzania, Malawi, Uganda, Ethiopia, Zambia, Eritrea, Sudan and South Sudan (which was added after its independence in 2011), plus associate member Zimbabwe.
"The Sisters of member conferences design different action plans that address similar issues and from these ACWECA leadership formulates a comprehensive plan that is then shared by all," Sr. Eneless Chimbali of the Servants of the Blessed Virgin Mary, official assembly observer and past secretary for ACWECA, told me in an email. "The other unique thing of ACWECA is that [it] has a functional secretariat to implement the activities decided on. This unity becomes a source of power and force for the region for fundraising and addressing common challenges."
The enduring, active presence of ACWECA is itself a prophetic statement to the church and the world about the significance of women religious in Africa and their potential to be leaders of faith and human development.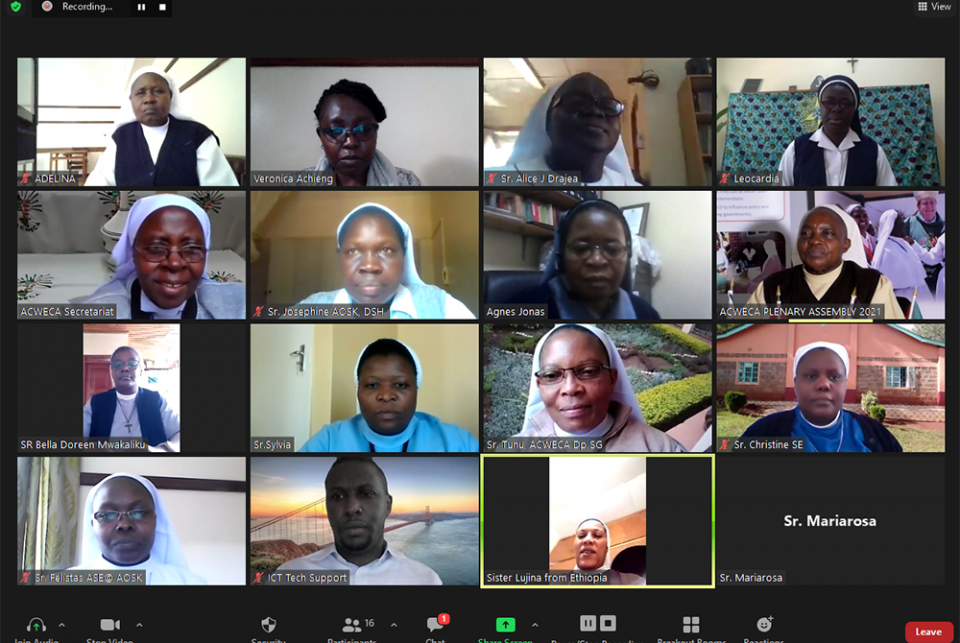 Board members of the Association of Consecrated Women of East and Central Africa, or ACWECA, discuss the Aug. 23-26 assembly. (Courtesy of ACWECA)
The theme of the Aug. 23-26 assembly — "Re-awaken the Prophetic Role: A Call for Reformation Towards Holistic Transformation in the ACWECA Region Today" — reflected the sisters' determination to continue this i