Sister Pa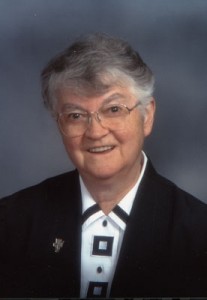 trick Leonard Murphy
Thursday after Ash Wednesday
The priest in our parish gave us a theme for this Lent… "A Journey of Joy!" Now that was refreshing. I always like to think of the Lenten season as that of springtime and renewal. The idea comes easily of turning my heart as we turn the soil for planting, very gently and lovingly with purpose. "A Journey of Joy" sounded great.
In the first reading, Moses speaks to his people of choosing life. Certainly, of obeying God's commandments, rules, decrees and statutes, but in the end it sounds fairly easy…Choose life and not only you, but your people after you, will have that journey of joy and then LIFE.
The Psalm certainly is one of blessing and hope. It fits the theme of springtime Lent, gentle persuasion, which I had in mind for this season. Then came the Gospel. Jesus speaks very clearly:
"I am going to suffer greatly and be rejected and ridiculed and killed and if any one wishes to come after me then you too, must take up whatever pain, suffering and difficulty comes to you in your life…and follow me." Such a jolt from that "Journey of Joy" Father mentioned Sunday.
Jesus never gives us more than we can take. Look closely. "On the third day I will be raised." "If you lose your life for my sake you will save it." And, "If you forfeit yourself, what good to gain the whole world?" Jesus is saying what Moses said, "Choose Life."
Both are saying what the Psalmist says,
"Blessed are those who hope in the Lord"
And, I must admit, I can take another run at this "Journey of Joy." I have some good companions by my side.